One of the final projects of massive collective housing ever finished and one of the densest places in Slovakia. In the 8 floors and 12 floors buildings constructed in the mid-1980s, and the tiny area of 1.78 km2, there are homes for almost 24 000 inhabitants. Welcome to the KVP neighborhood located in the very West of the city of Košice. KVP stands for Košický Vládny Program.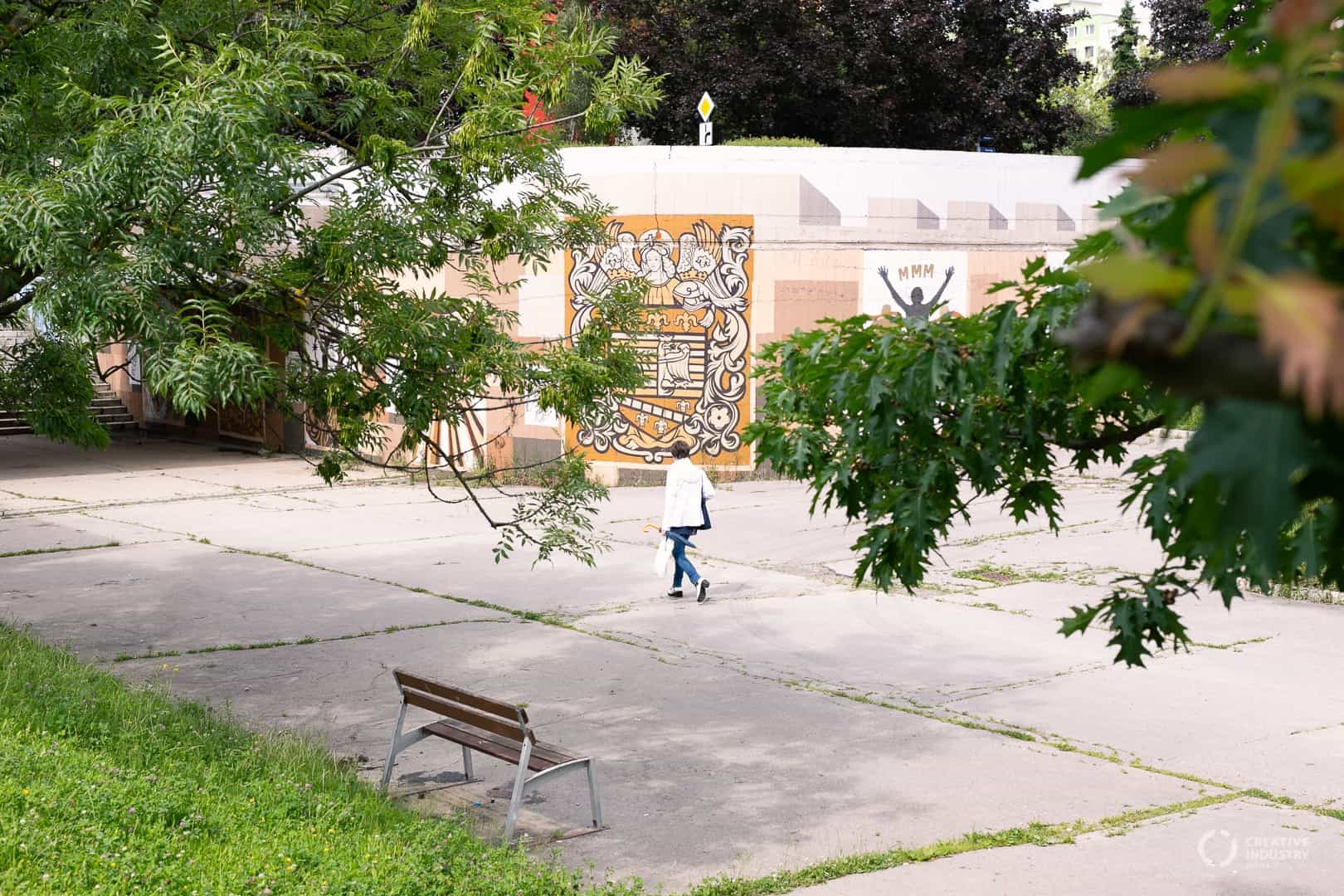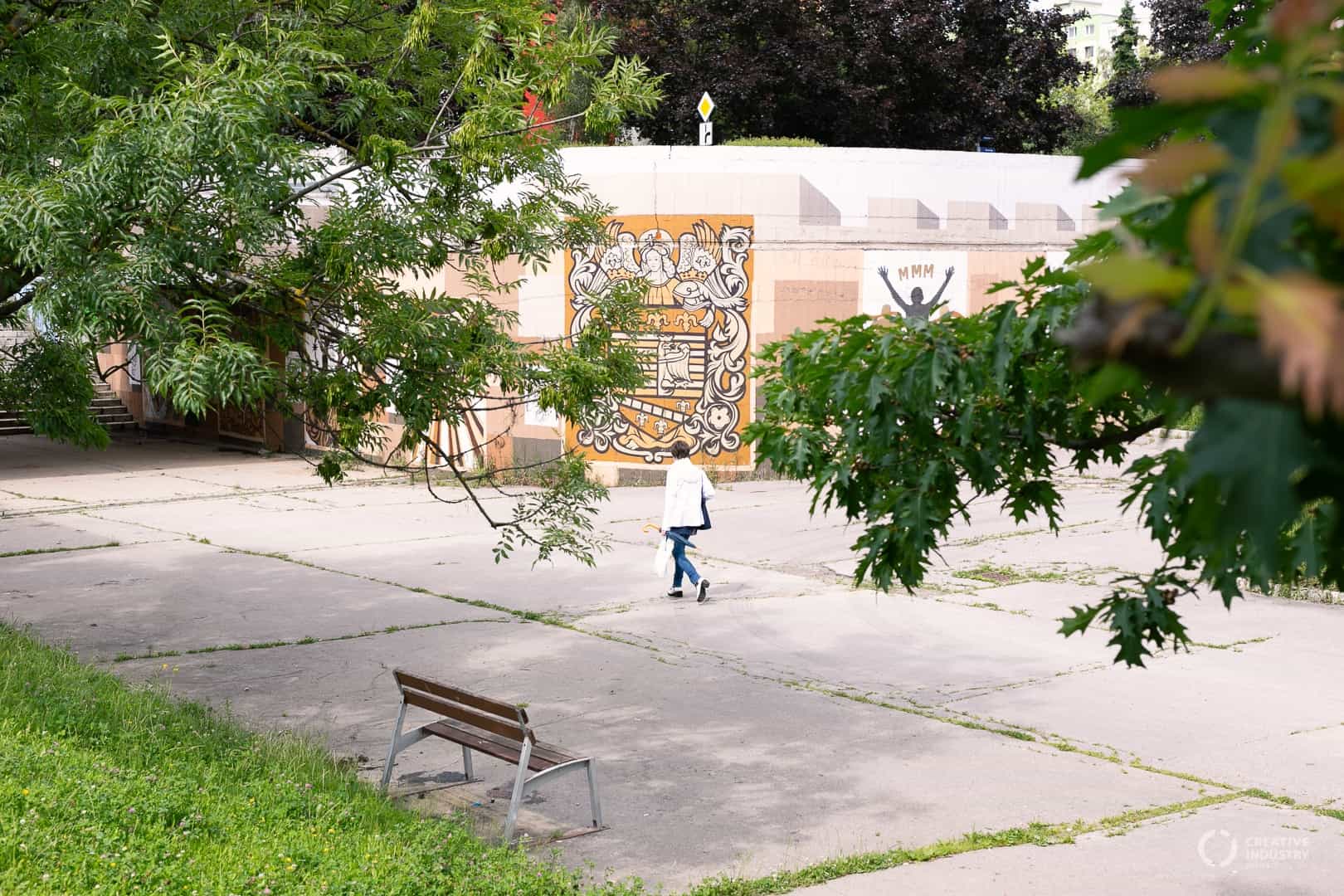 "KVP was a 1945 agreement between Czechoslovak Communists who had spent the war in the Soviet Union and the Czechoslovak government-in-exile, which had been based in London. They met in the city of Košice, which had already been liberated by the Red Army. The program document was approved on 5 April 1945. It set out the principles of future policy and was referred to as the 'program of national and democratic revolution'. It shifted the orientation of Czechoslovakia further towards the USSR and 'legally' anchored dependence on the USSR. It declared claims about the collective guilt of right-wing parties and the German and Hungarian populations for the breakup of Czechoslovakia and for cooperation with the Nazi regime."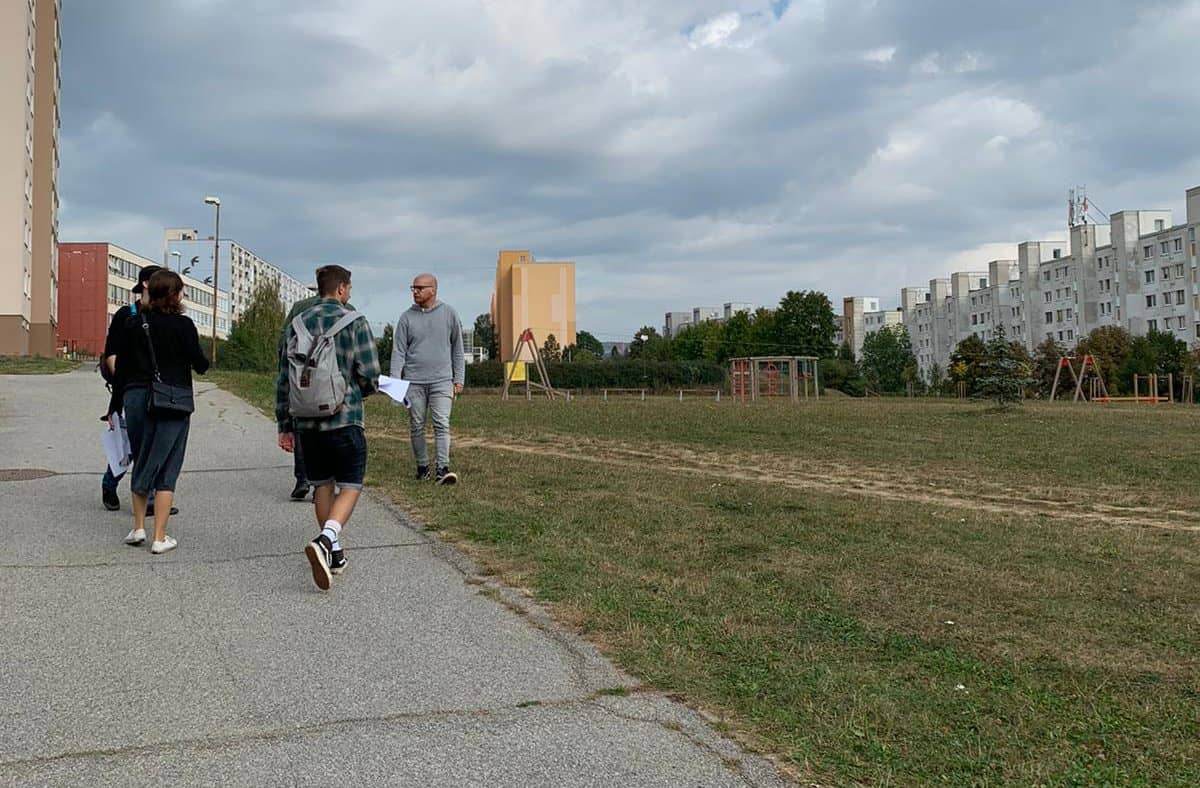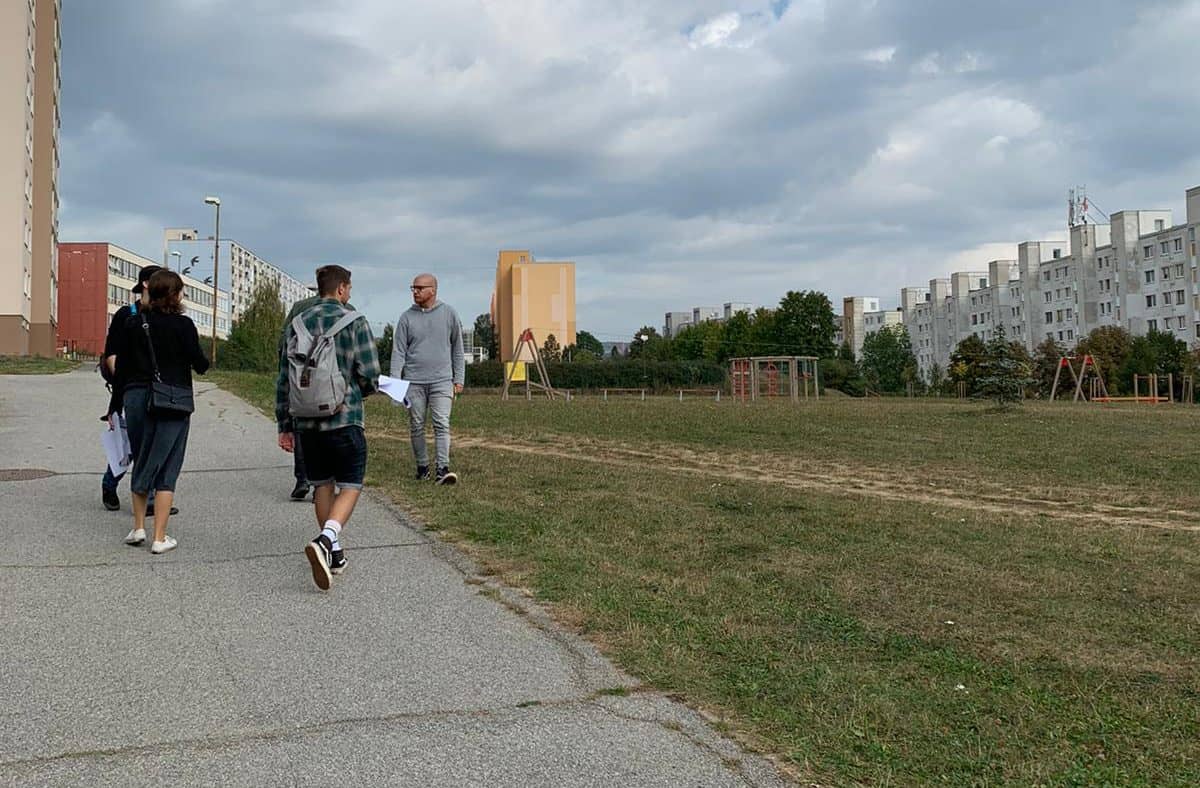 Try to build mythology on this
Several decades after the program Košice, the fastest growing city in Czechoslovakia, still needs to accommodate thousands and thousands of the new citizens who flew into the city from all surrounding regions and the rest of the country. Since the early 1960s, the city grew from population less than 100 000 up to quarter million in late 1980s and the main strategy to settle this amount of people was to build brand new districts around the old medieval town. KVP was the last one, and it was finished as it was planned. The collapse of the Communist regime and centrally planned economy shut the door to such a massive urban planning.
Fast forward to present
Together with my friends I established a small organization Východné pobrežie (East Coast) over a decade ago. Back then we focused mainly on promoting the qualities of urban life and empowering public life, public spaces and active citizenship. To the standard tools used for this, we added some unorthodox details such as mythology, humor and new narratives, and thanks to that we started to be more recognizable via small interventions, events and publications.
Previous work with our organization led to an offer to take care of future development and revitalization of public spaces in the lovely collective KVP housing area on the local municipality level. Accepting such an offer was a bit irresponsible decision, because scaling up small interventions and activities to the size of a regular average Slovak city is something completely different.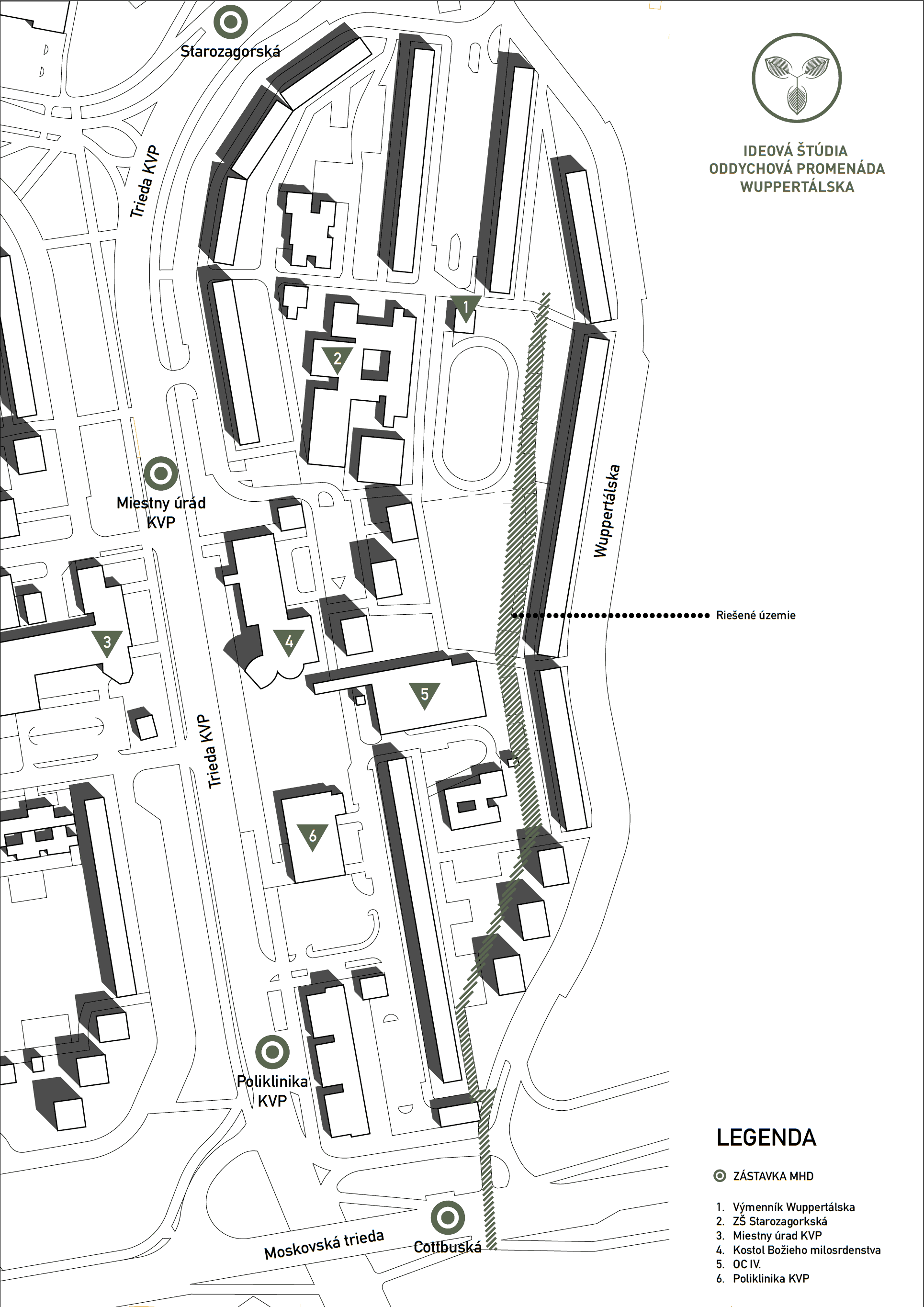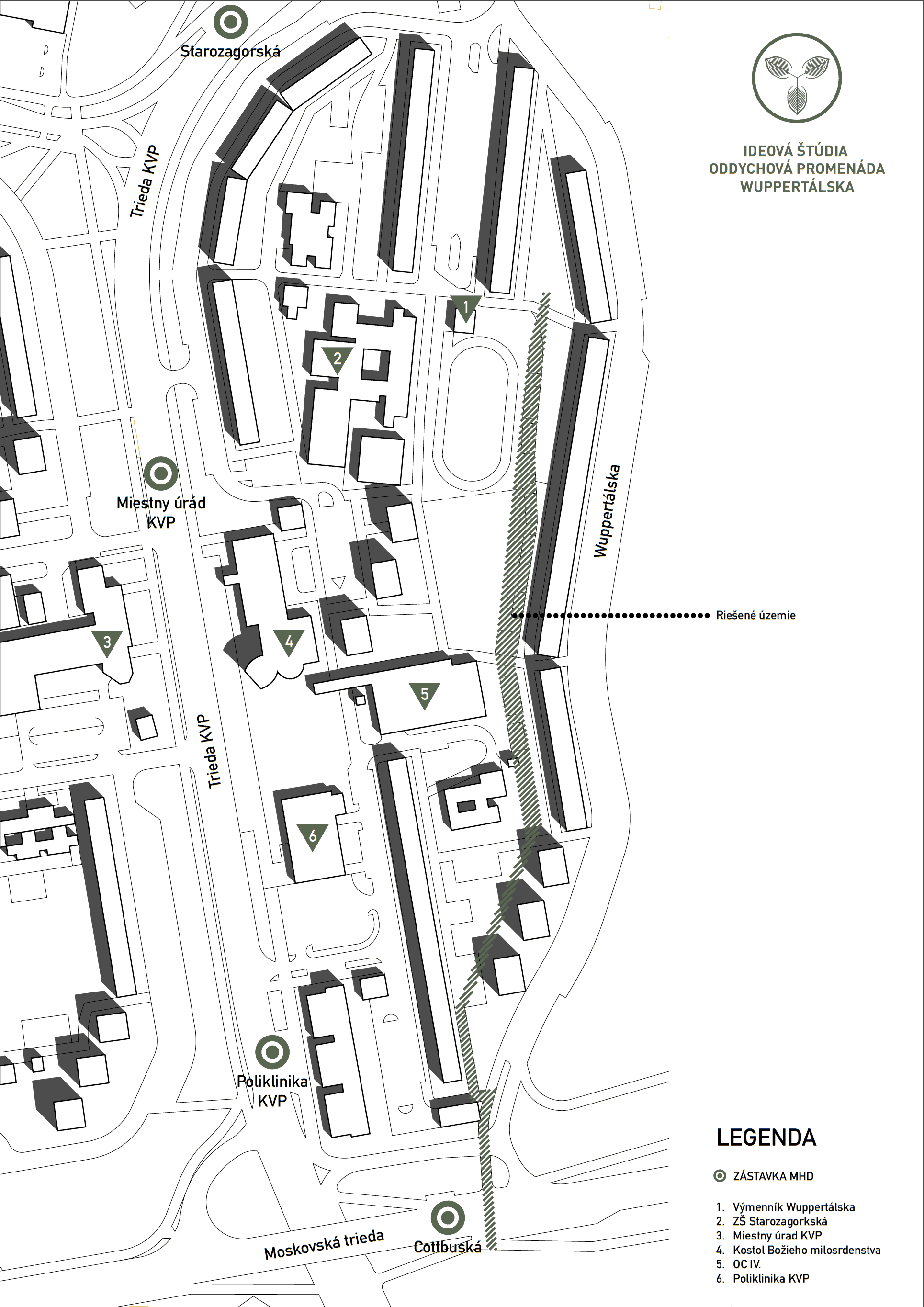 How to add mythology somewhere where you are struggling with basic infrastructure
In two previous interventions at KVP we created a mental map of the place with focus on formal and informal cultural and community capacities. Apart from that, we worked on another small project in which we catalogued playgrounds in the area with quality ranking. So we were quite familiar with the area.
Over the course of almost two years, I have stepped down from the level mythology-creating to the level satisfaction-of-all-present-communities. With the local municipal office, we created a set of participatory planning sessions called Common Plan, and one step at a time we started to talk about, listen to, measure and plan together actual and future needs of inhabitants. After a year of discussions, we prepared sketches, presentations, visualizations of several places, where we projected results of previous dialogues with the locals. All the selected places were mainly reconstruction and revitalization of existing squares and areas but one.
This is where we can finally add some mythology
After a year and a half of revitalizing playgrounds, creating new places for benches, visual smog disappearing and noticing millions of small invisible details, there was finally an idea of creating a whole new story.
District is divided into four local sub-districts. Number one is in the South and has a nice big park in the central area. Number two and three are very well connected and have a promenade sidewalk with a square with a fountain in the middle. Number four is a bit like an orphan. So naturally, a new narrative should be given to the number four.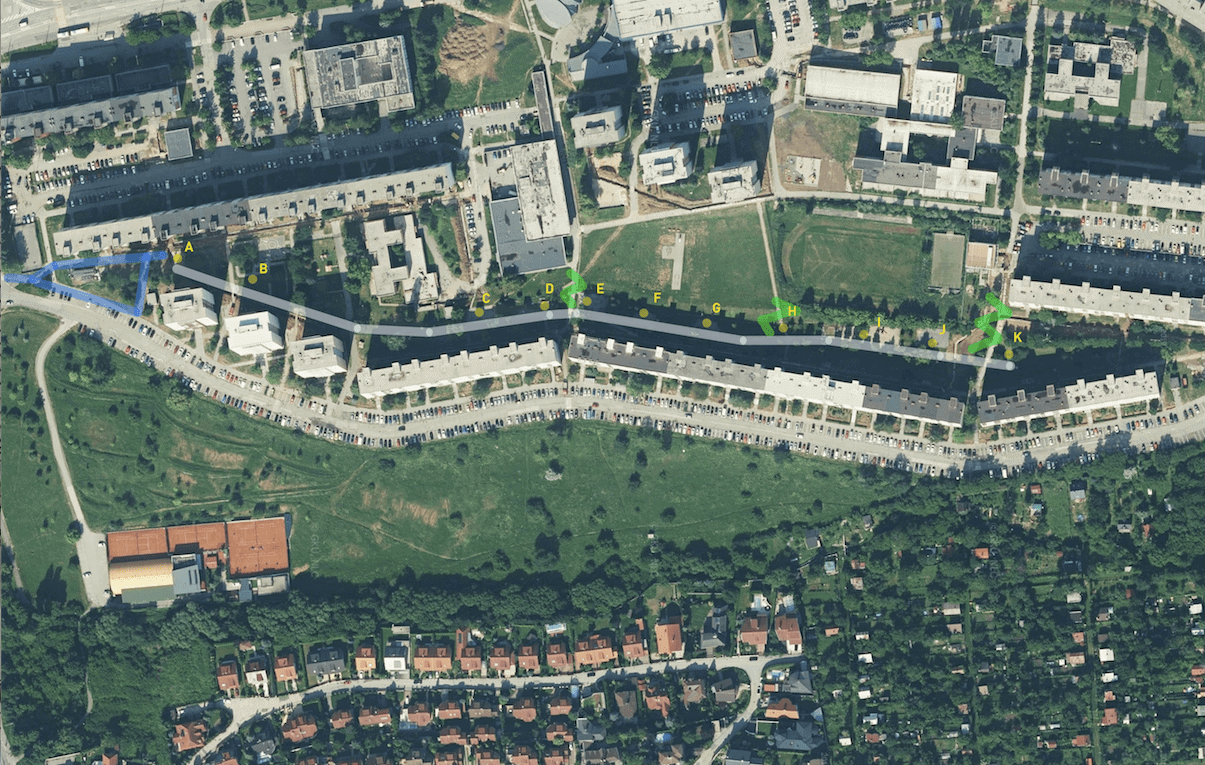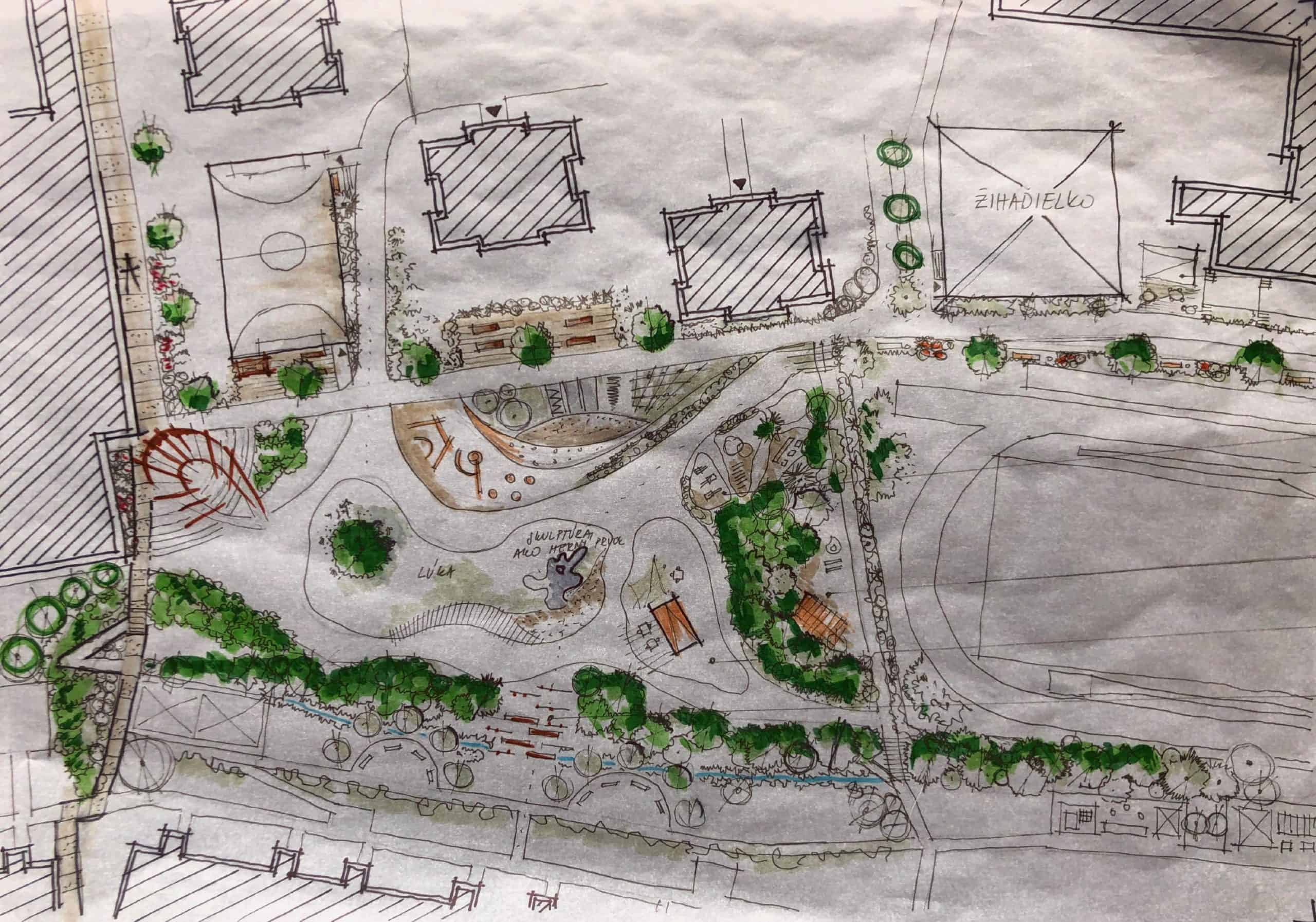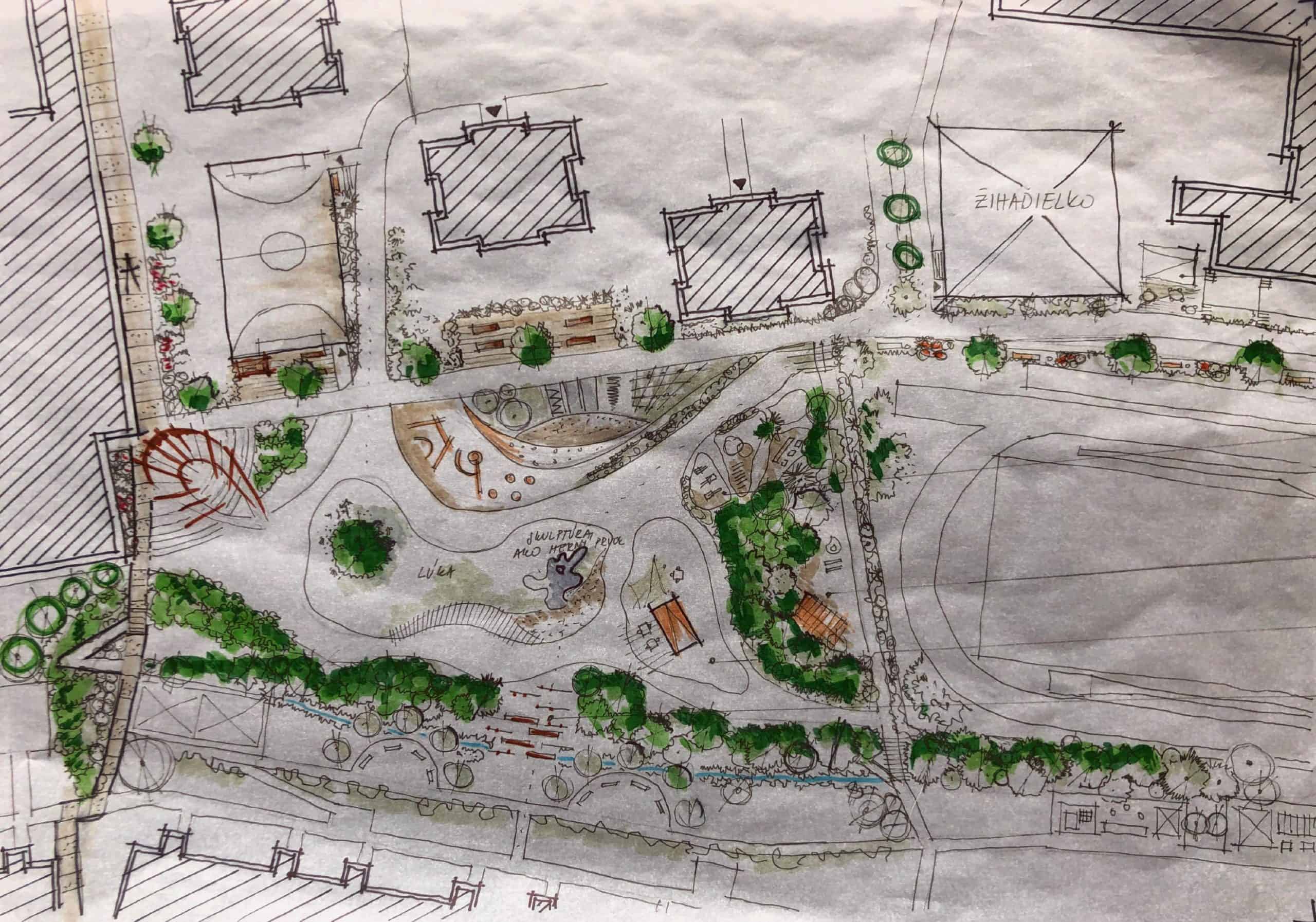 The entire neighbourhood is built in a hilly area, so streets are built along the level lines (or isobath if you wish) and they are divided by the terrain terraces. Through the whole number four sub-district there is a terrain terrace which is almost 600 meters long. It has several features such as benches, playgrounds, stairs, abandoned concrete sport fields, but it is quite defragmented and it does not function as a one space.
By simply connecting these features we can have a lovely park, participatory park, line park, linear park. Those were the first names to call this place as one thing, not as a dozen disconnected places. Just imagine the High Line in New York's Meat District. Minus elevation, minus rail tracks, and you have the same feeling of walking in line park between the high rise buildings!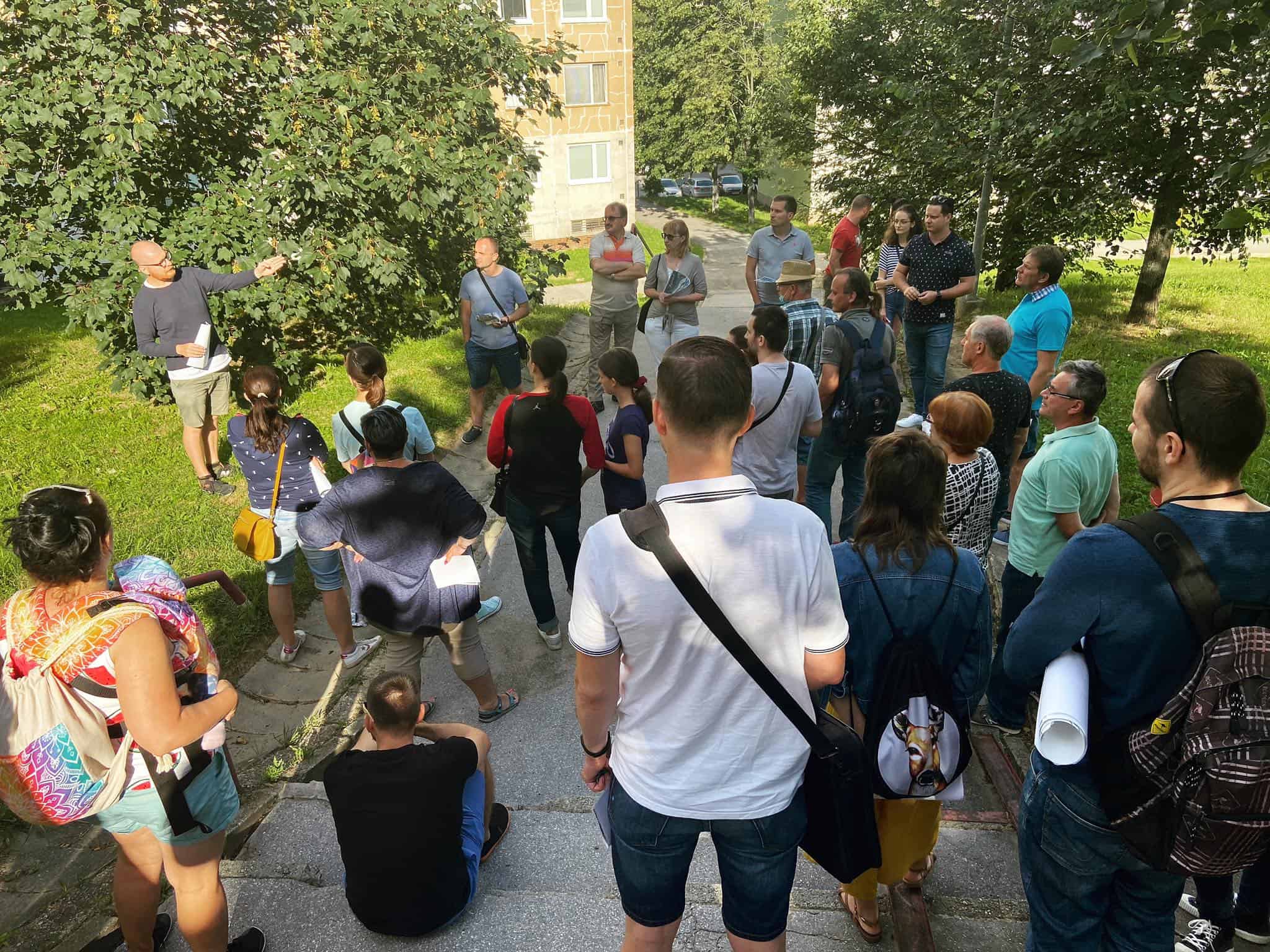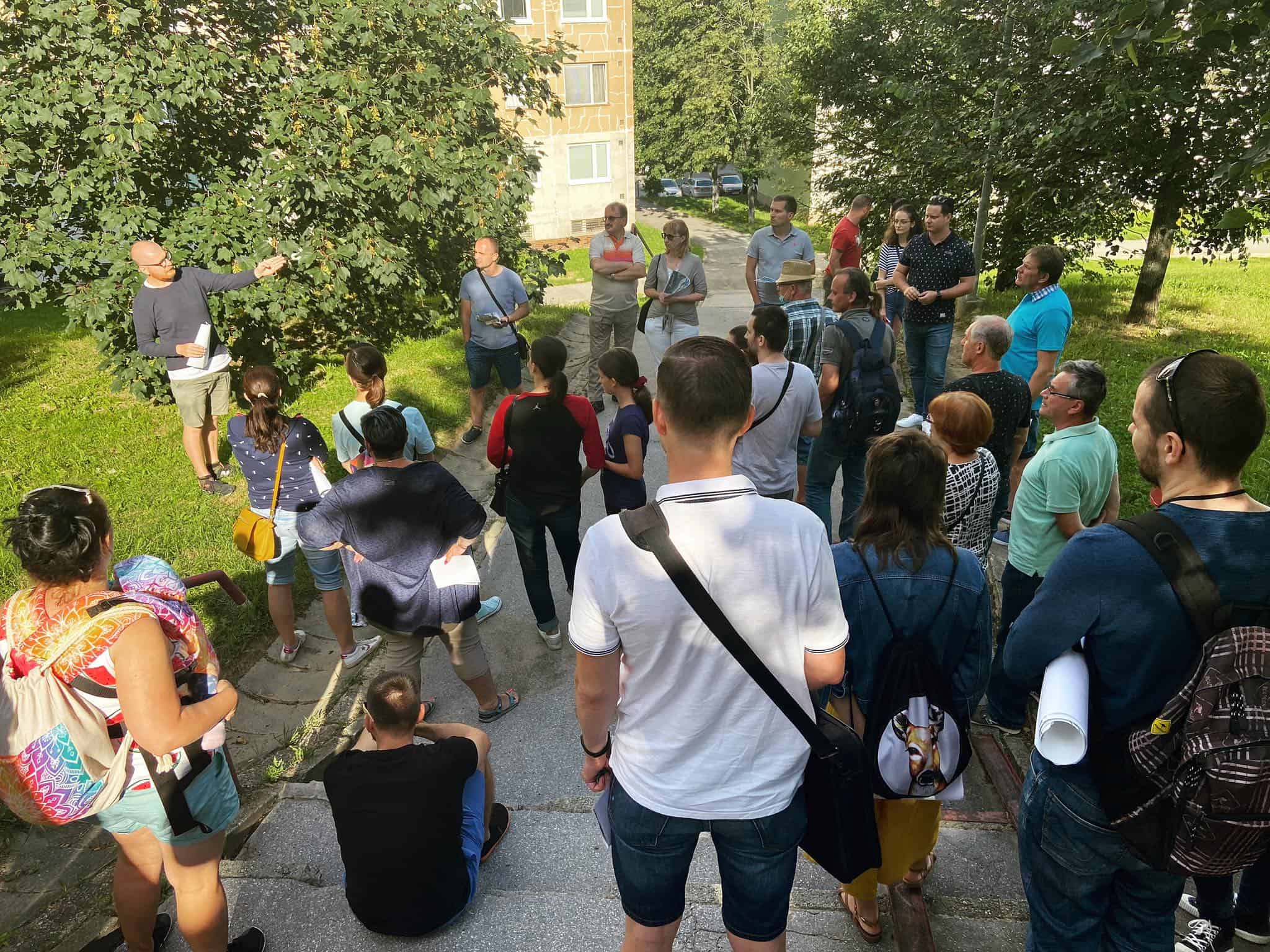 What were the steps for involving the locals in the idea
We organized a public walk, 30 people showed up, and they started to see and understand the potential of the one connected line immediately. By the end of the walk, we found a way to prolong the line over another parallel street. Right after, we prepared an online form with questions about the actual shape of the places on the line and how they should look like in the future. Feedback from almost 70 people confirmed many of our thoughts, but also showed us other problems and challenges.
We came up with the idea of linear park in May and June, in July we invited people to join us on public walk and to fill out the online form, in September we held workshop for Creative Industry Košice about the place and in October, we are going to start work on budget for 2021, and how to spend money effectively and responsibly in revitalization of this place. It may sound more realistic rather than mythological. But if I compare this approach of recreating public space to the average process of public spaces planning around the country, it is more fairy-tale to me.
During the workshop, we encouraged participants to search for their own views, challenges and opportunities for the whole place. Supported by stats, infos and maps, they were able to identify almost all of the concerns of the locals. For sure you can not go into further detail, but accessibility of public spaces for all citizens, common plan for large area instead of several disconnected small projects, and the story that united it all together, are general rules that you need to follow, if your motivation is to create useful public space for people that you don't even know in person.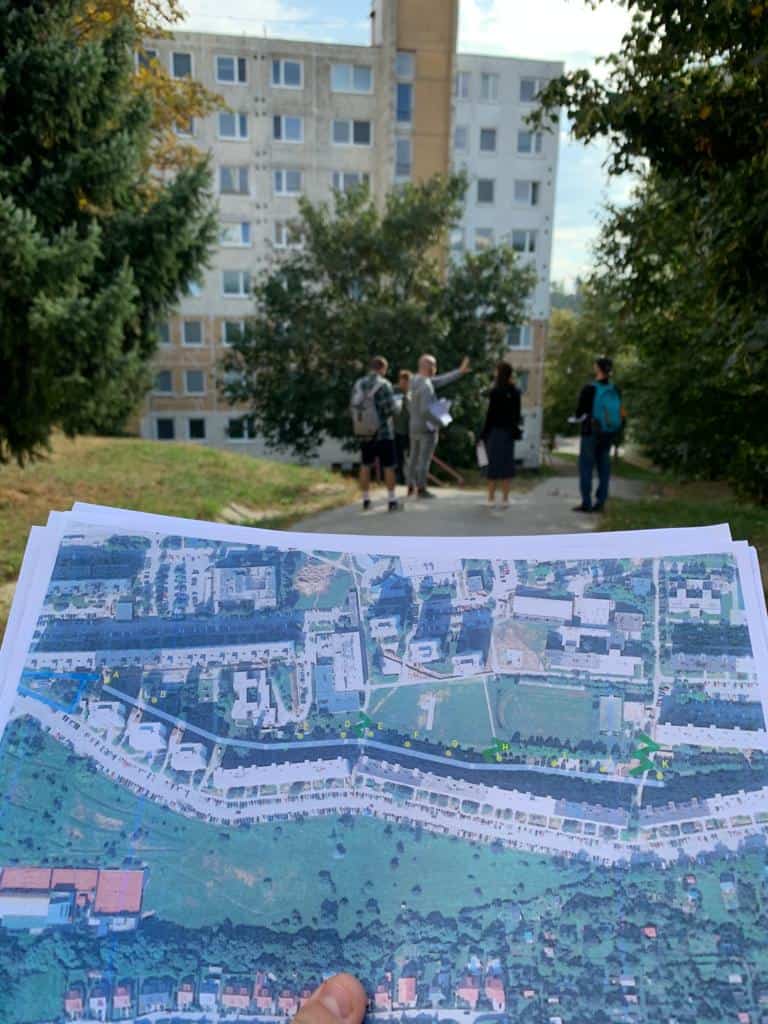 This workshop is part of Urban Exploration event organized as part of the Cultural and Creative Spaces and Cities project, which is co-funded by the Creative Europe Programme of the European Union.