About
The UNESCO Austin City of Media Arts Steering Committee, in partnership with the Cultural Arts Division within the Economic Development Department, invites professional artists/artist teams who work with the latest innovations in new media art (including but not limited to digital arts, film, music, visual and performing arts) to propose an existing or new artwork for inclusion in the international UNESCO Media Arts Exhibition to be held during the South by Southwest festival and Conference between March 13th until 15th, 2020.
Apply by filling out this form until the 27th of January and a few days after that you will receive the results of the open call.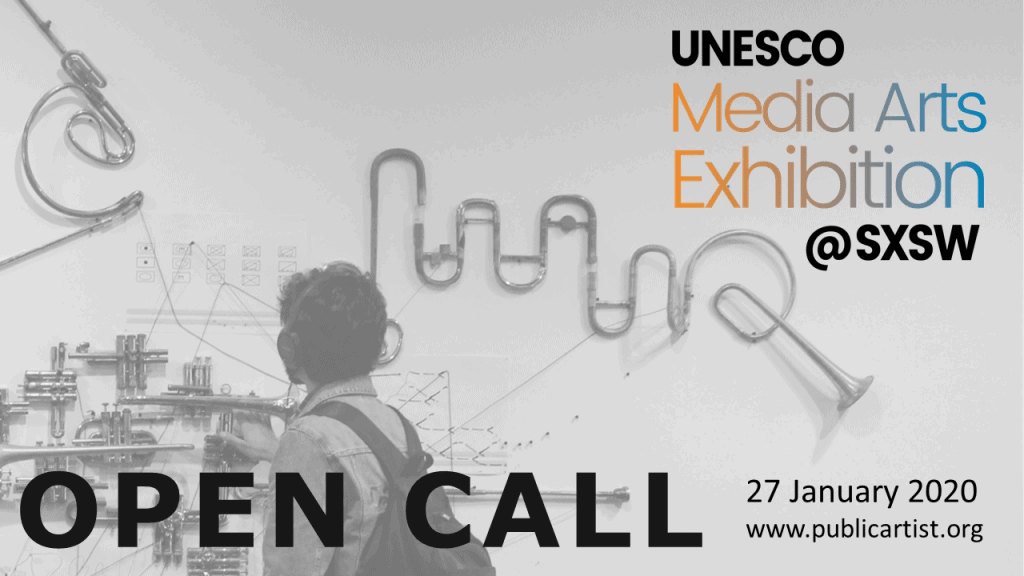 Budget
The honorarium for each selected artist to provide artwork for the exhibition is capped at $1,500, inclusive of all costs including, but not limited to the artist's fee, insurance, artwork transportation and shipping, set up, and engineering costs. Computers (2019 iMacs), Projectors, and various A/V supplies may be provided upon request. In addition, each selected artist will receive an Interactive Badge to the SXSW Festival, valued at $1,145.
Theme
"We are called to be the architects of the future, not its victims." - Buckminster Fuller As we come into a new decade in the time of rapid urbanization and change, we are seeking work which speaks to a collective vision of the future. Either via the lens of your specific community or location or on a global scale, this exhibit aims to share speculative visions of the future through the lens of media art and artists.
Submission requirements
Applications have to include:
a Letter of Interest, outlining the idea/installation, what sort of infrastructure is required
(electrical, spatial dimensions, etc), and the thematic focus of the work as it relates to the
call;
Up to 10 images/video of completed relevant artwork with descriptions;
Bio and CV
Platform for international artists
As a UNESCO Creative Cities Network (UCCN) member and contributing Media Arts City, the City of Austin is committed to fostering and showcasing art and innovation across disciplines from across the globe. To further those efforts, the City is partnering with SXSW to continue the annual SXSW UNESCO Media Arts Exhibition.
This call for proposals is directed to the sixteen UNESCO Media Arts cities, including Austin artists, providing an international platform for media arts. The exhibition will feature artwork/installations from several UNESCO media arts cities and may also include programming such as panel discussions with representatives from Austin and abroad. An opening reception will also be organized to further market the Exhibition to SXSW participants.
The City of Austin, the only U.S. city with a UNESCO Media Arts designation, is home to South by Southwest (SXSW), an annual festival and conference showcasing the talent and innovation of interactive, music, and film industries from around the globe. In 2019, SXSW had over 280,000 people in attendance with an economic impact of US$355.9 million. In addition to its role in bolstering Austin's cultural cachet, SXSW serves as an international hub for creative exchange and has launched new media and digital platforms such as Twitter and Storify. SXSW as an event continues to evolve, incorporating topics such as Food, Health, Style, and, since 2017, an official Art Program. Full information about SXSW can be found here.
Success stories
Košice sú v sieti kreatívnych miest mediálneho umenia
Košice sú od 31.októbra 2017 prvým slovenským mestom, ktoré sa stalo Kreatívnym mestom UNESCO (UNESCO Creative Cities Network) v oblasti mediálneho umenia. Do klubu vstúpili spoločne so 64 mestami z celého sveta. Vďaka tomu teraz máme skvelú príležitosť zviditeľniť sa na globálnej úrovni, rozvíjať medzinárodné spolupráce a vytvárať príležitosti pre tvorivých ľudí nielen z Košíc, ale aj z celého Slovenska.Prihlášku do UNESCO Creative Cities Network pripravilo CIKE a zároveň sme navrhli niekoľko kľúčových aktivít, ktoré presvedčili UNESCO, že Košice si zaslúžia niesť titul Kreatívneho mesta. Za všetky spomenieme napríklad vytvorenie mestskej hry, či oceňovanie mladých umelcov z partnerských miest a s ním spojené budovanie otvorenej galérie mediálneho umenia v Košiciach. V súvislosti s titulom CIKE každoročne v jeseni usporadúva festival vrcholiaci konferenciou o umelecko-technických presahoch
Art & Tech Days
.