About
DeuS – European Open Design School for Sustainable Regional Development is a regional Vocational Educational Training (VET) project in the cultural and creative sector. Apart from Košice, partners of the project include four other cities with the title of European Capital of Culture, partners from the field of education, cultural and creative industries and they are connected in various ways with research and technology centers, and public actors.
Open Design School
The project builds on concepts from the Open Design School which uses design as a tool to build capacity between professionals from different fields and citizens. The designing groups consist of ⅓ locals, ⅓ people from the given country and ⅓ foreigners. This pilot approach originated in the Italian Matera - the European Capital of Culture 2019.
OPEN = open source, anyone can participate

DESIGN = as a tool of activation of the processes, applies citizen-centered design

SCHOOL = peer 2 peer structures, learning while doing, a platform to learn (workshops, community workshops open to the public, open talks with experts)
Project goals
The DeuS projects' ultimate goal is to put human capital, local communities, and the creative and cultural operators at the forefront of regional development strategies, which is exactly what the combination of the Creative Knowledge Platform and the physical training and co-creation events can provide. Our goal is to foster an open dialogue with policymakers and to show them that the community of educators, creatives and local forces that the project is building is the key to enabling the innovative, sustainable and lasting solutions we need.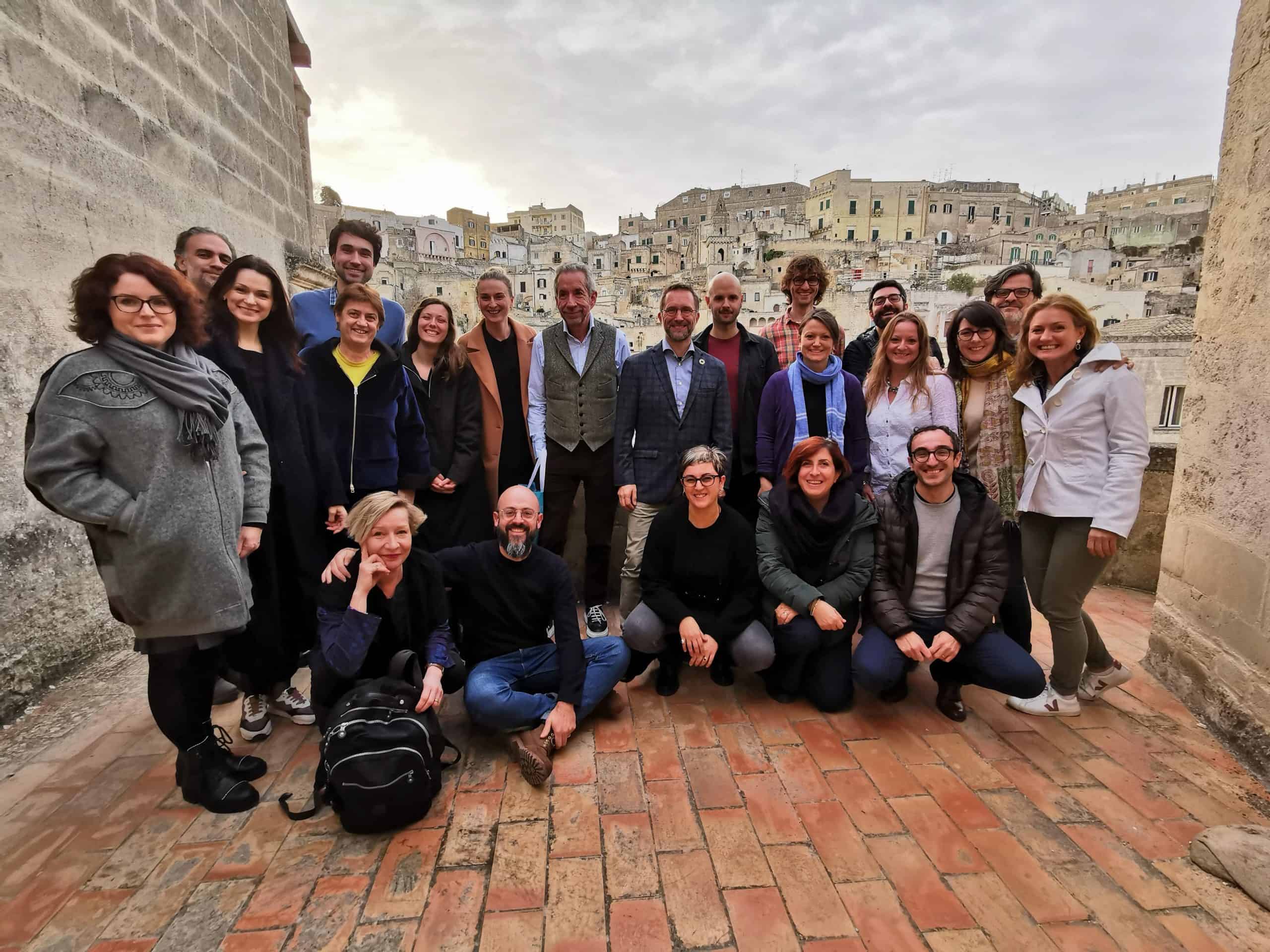 How will we achieve this?
Identify and develop a learning and training approach to support and build skills which will help people in their jobs. We will build on pedagogies that draw on a work-based approach, along with a training and learning scheme that is expected to be open, inclusive and non-hierarchical. 

Using a co-creation method, we will develop a process that will involve local/regional CCI communities, policymakers and citizens in the identification of local challenges and generate solutions adaptable at European level;

Establish innovation hubs (Living Labs) that support SMEs, professionals and VET learners to conduct research and develop innovative products and services;

Design a Knowledge Creative Platform where the users will be able to find high-quality and user-friendly workshops, tools and resources to allow life-long education in CCI;

Develop a financial model to promote sustainability that combines public and private funding and income-generating activities.
Make sure to always get the latest news by signing up to the DeuS newsletter here.
Help us with research
We are currently collecting data to create a shared platform. Share your experience and contribute to the best possible result by filling out your questionnaire:
---
The project is co-funded by the Erasmus+ Programme of the European Union.