The dream of becoming a perfumer motivated him to move from Brazil and study in Europe. After finishing his studies, he did an internship in China, after which he decided that it was time to travel freely. In the meantime, our Italian partners from the TraCEs project – Destination Makers – have selected him for the Recharge in Nature programme. During the first of five days we spent in the Dolomites without technology, he shared his travel plans with me: "I am coming to Košice in three weeks. I heard only good things about it while I was in Bratislava."
---
The Italian programme Recharge in Nature (RIN) tested the new form of transformative tourism for one of the less developed regions. 10 participants were selected for the programme. We've met there, actually. What made this experience special to you in terms of travel?
One of the things that my stay in the Dolomites introduced me to was this brand new form of tourism and interaction between people. For 5 days we were in the middle of the mountains, without access to our smartphones and cut off from the outside world. As a result, we have established strong relationships and we talked very openly with each other. We shared our stories and information about our countries because we all came from different parts of the world. We have learned a lot about local and our own cultures. What always fascinates me is that within Europe you can travel a short distance and come across a completely unique culture.
During the programme, we helped the owner of the cottage, meditated, practised yoga and went hiking. Thanks to these activities, we managed to establish incredibly intense friendships that last till this day. Now we think that a similar programme could and should be done elsewhere in the world and benefit other people and their countries.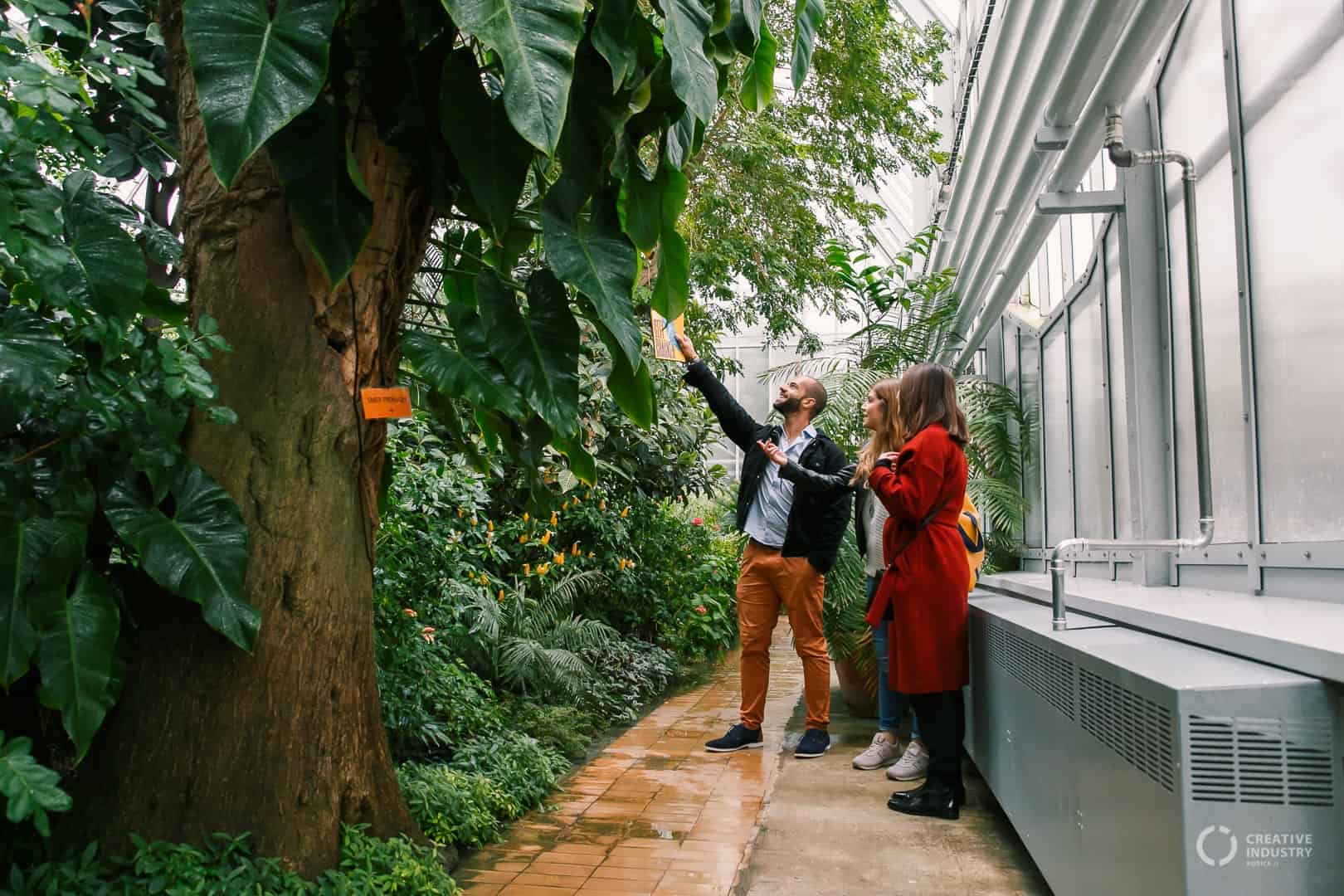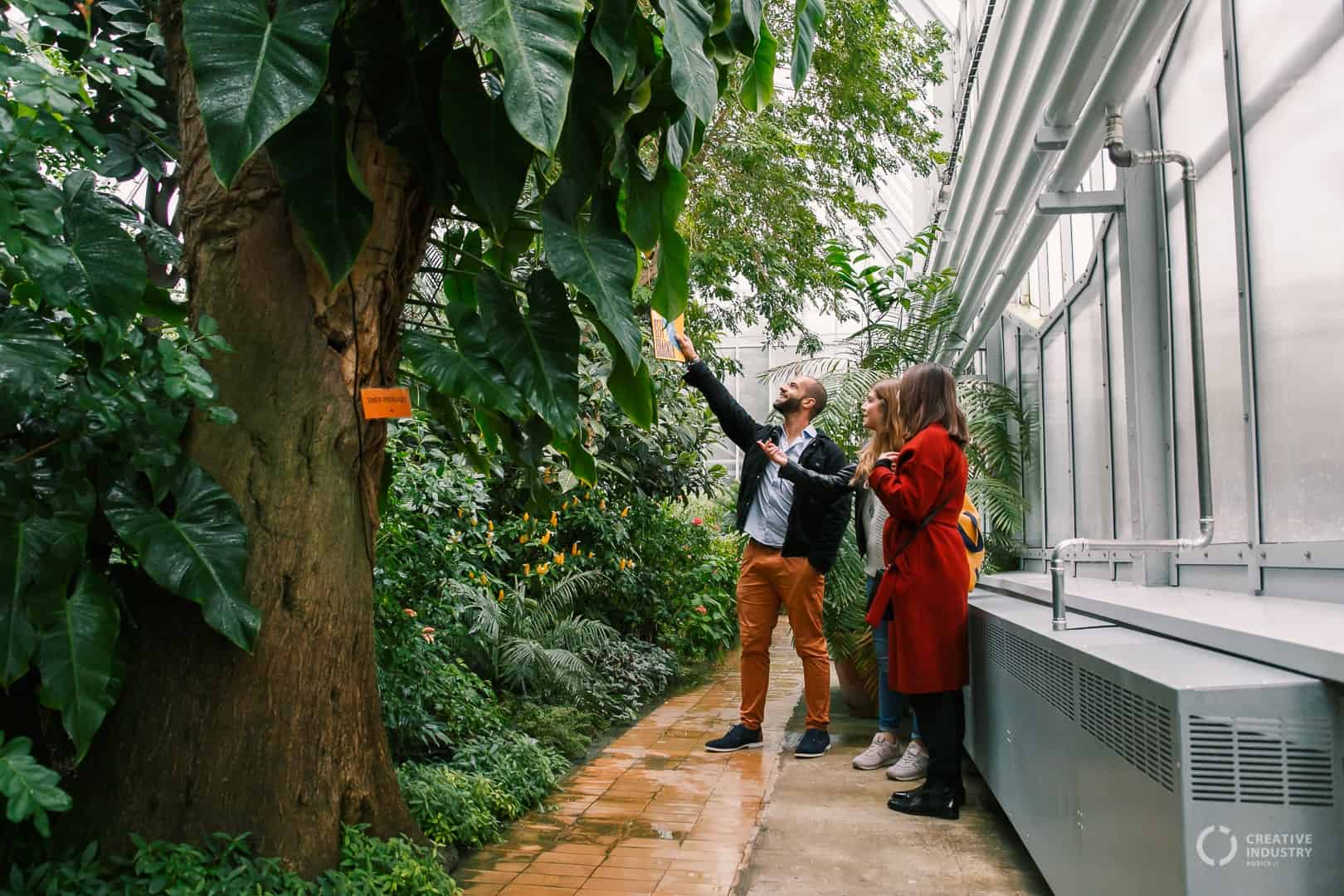 Have you already had Košice in your travel plan before RIN?
The Dolomites were an unexpected stop during my journey. When I realized that I was one of the 19,000 candidates selected, I changed my travel plan a little bit. Previously, I visited Austria, Belgium, Czech Republic, United Kingdom, France, Germany, Ireland, Latvia, Luxembourg, the Netherlands, Scotland, Slovenia, Spain, Russia, China and the USA. After five days in the Italian Dolomites, I had gone for Lithuania, Belarus, Poland, Hungary and Romania. I thought I would certainly visit the other programme participants in my travels. I was not 100% sure about visiting Košice, but when I met you and saw how enthusiastic you were about the city, it has become a clear choice for me.
What did you know about Košice before we met?
I learned about Košice two years ago when I was in Bratislava. I came from the East and was heading West. Since Slovakia lies in the heart of Europe, it had a strategic position for my next travels. I decided to stop in the capital. I liked its architecture and I met many nice people there. What surprised me the most, was that many of them asked me if I was going to Košice and that I should definitely visit the city if I get the chance. At that time I had other plans, but I thought that I would return to Slovakia. And I'm really here now.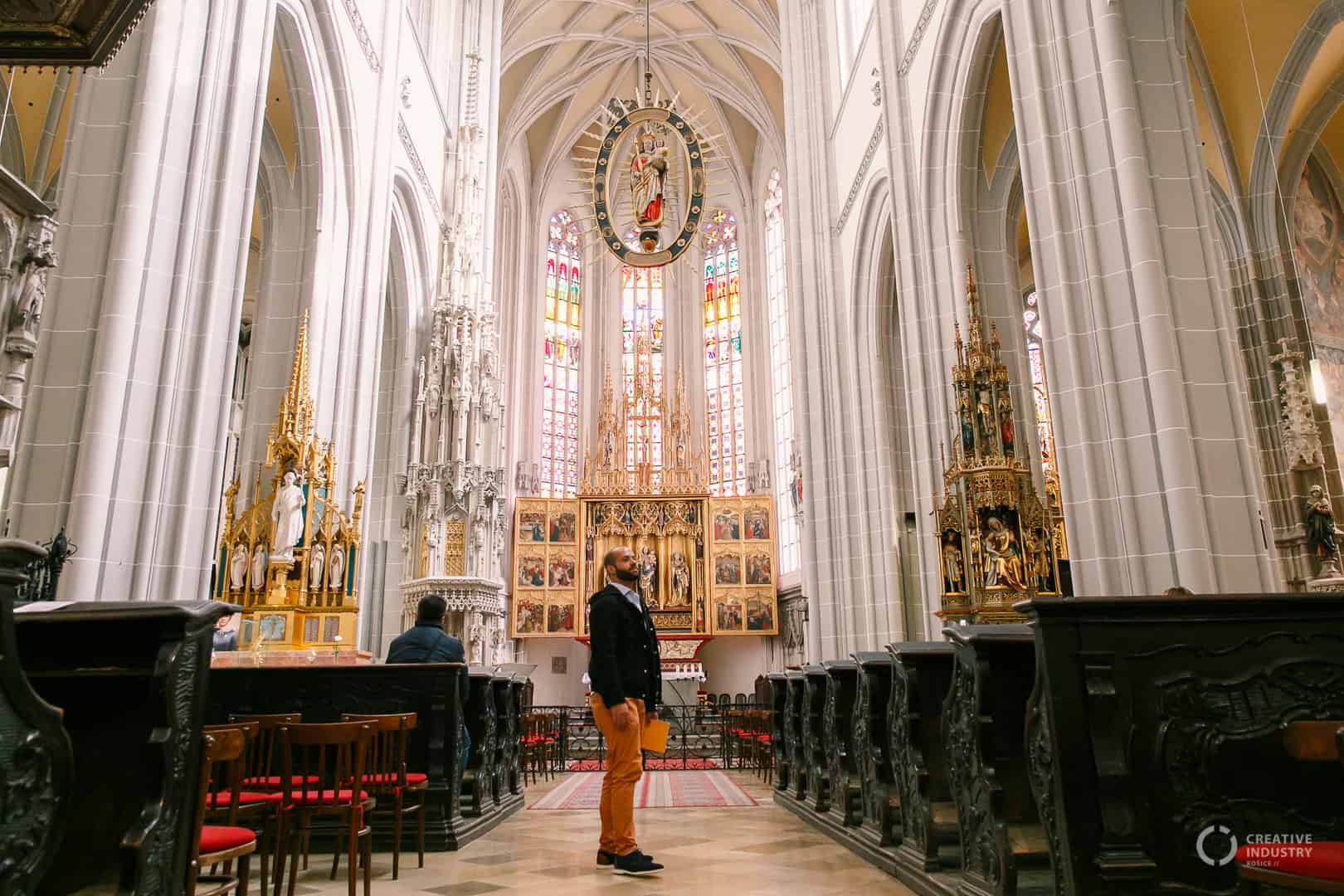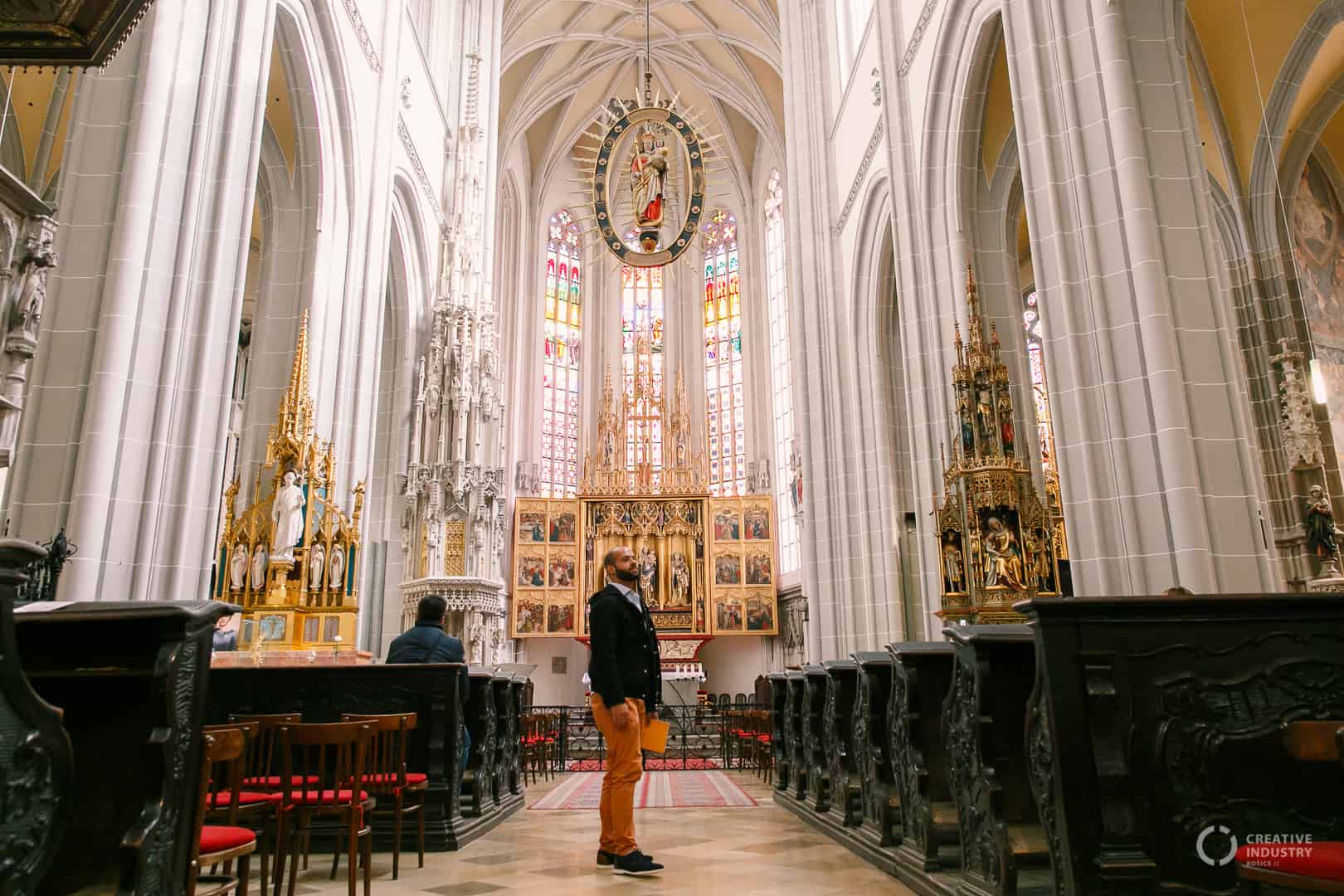 This is the last of the 3 days you're spending in Košice. How has the city impressed you? Where have you been and what have you seen?
I realized that Bratislava and Košice are two very distinct cities, although they are both located in one country. I like them both very much but for different reasons. Both have beautiful architecture. Yet, in my opinion, Košice has a much greater cultural diversity than Bratislava and the city also has this crazy wind which I did not expect at all. Košice is not so big in terms of the geographical area, but it does not seem like a small town in terms of its people. Today, for example, it is raining and the wind is blowing, but there are still many people in the streets. In other cities, you won't find anyone outside when it's raining.
Thanks to the City Cracker – Your Local Guide to Košice book, I managed to see and try a lot of interesting things. I am glad that you showed me another perspective on travelling – getting to know local values ​​and places that are only well known to those who know Košice intimately. Thanks to this experience, the city really felt like home during these past few days. The experience was in a way similar to the one in the Dolomites because the those I had in Košice did not belong to the category of traditional tourism.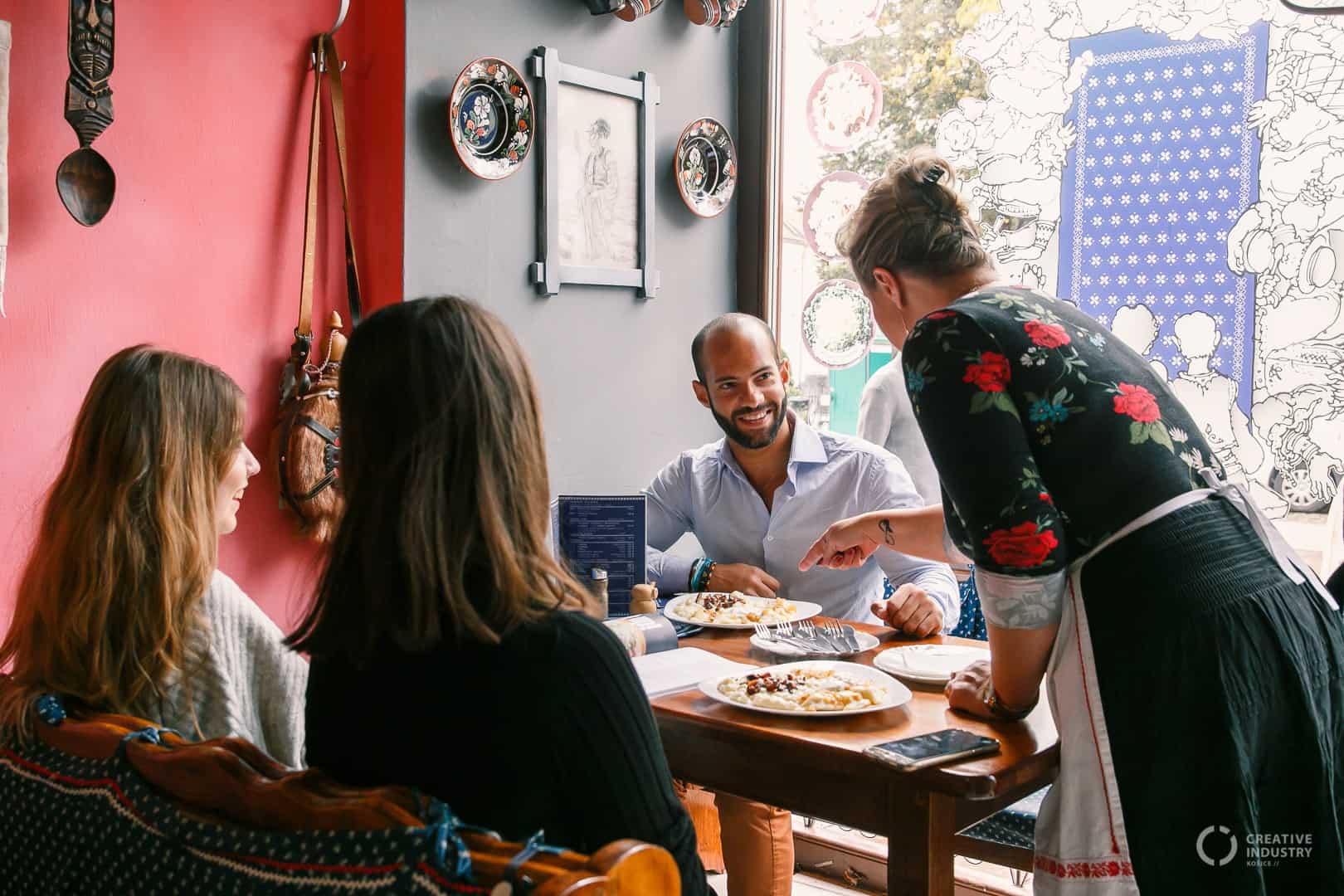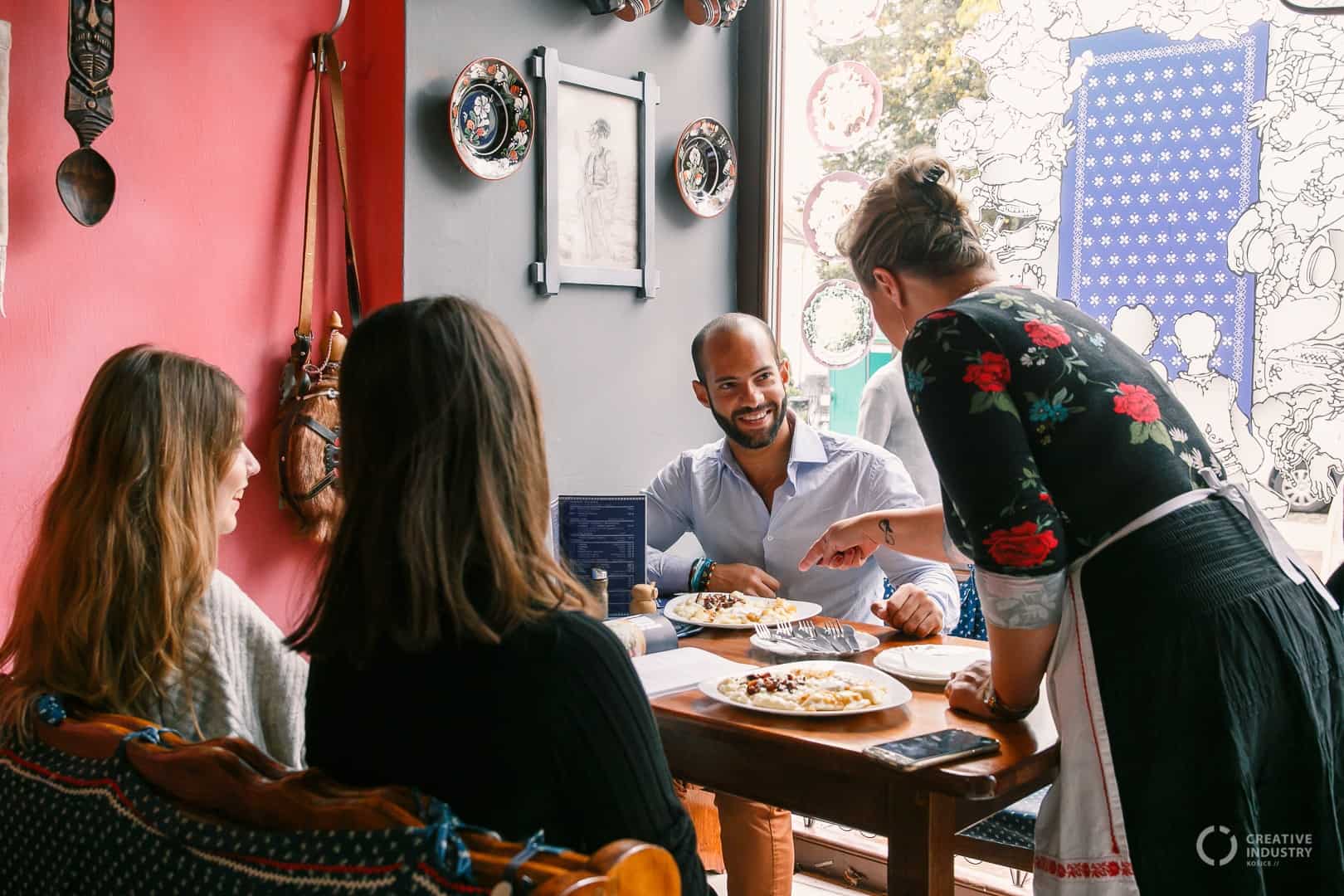 What places have you visited?
I learned that Košice has the largest botanical garden in Slovakia. As a perfumer, I couldn't miss it. I was captivated by the cactus greenhouse. The magical atmosphere was further enhanced by the rain falling onto the roof. I found a map of the Open Mural Gallery (OMG) on The Invisible Mag site and spent one afternoon walking and exploring the murals. Since I admire the architecture, I couldn't miss the largest Gothic cathedral in Slovakia, the Cathedral of St. Elizabeth.
And what about the gastronomy in Košice?
In Košice, I first tried traditional sheep cheese dumplings in Haluškáreň. The staff was dressed in traditional Slovak folklore clothes and was very nice, too. After we got there, I felt as if I moved from a busy city to the countryside. I could imagine what it was like in Slovakia decades before at least a little. I had not had 'bryndzové halušky' before, so I cannot exactly characterize their taste. But I can say that I think they were pretty good.
During my stay in Košice, drinking coffee was also a great adventure for me. At the beautiful Dominican square, we sat down in San Domenico caffé, where a skilled barista prepared my coffee right in front of me. He allowed me to choose my own pattern and taught me a lot about coffee while preparing it. The way he performed his daily routine was an artistic experience for me. And I like that very much in Košice – the people I met here were very friendly and talkative. And thanks to them the city had a completely unique, pleasant atmosphere, also in bad weather. I have to admit that during my travels I attribute sympathy to the cities according to how much I like the people who live there. I love to get to know them, not only through culture but also through their way of thinking.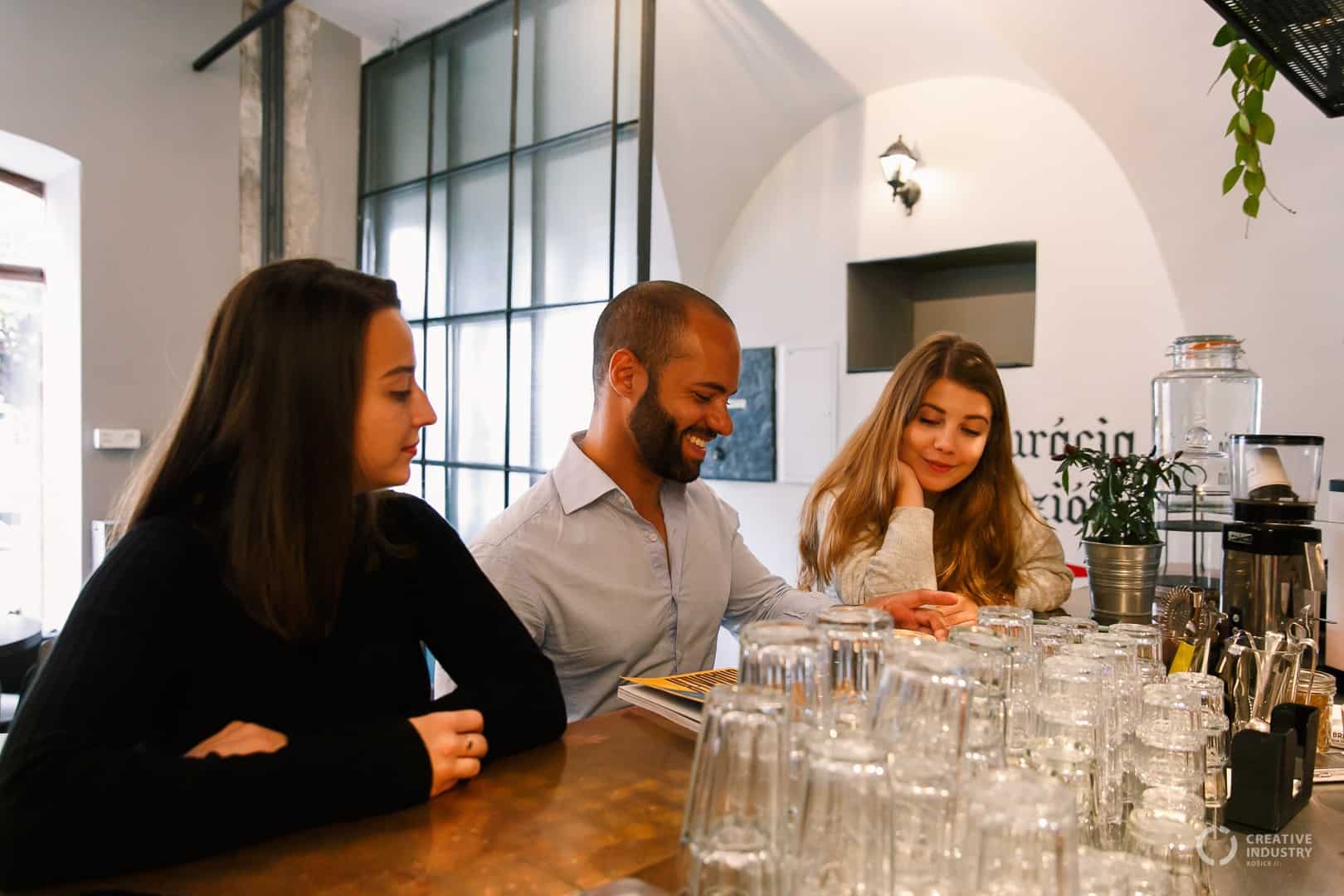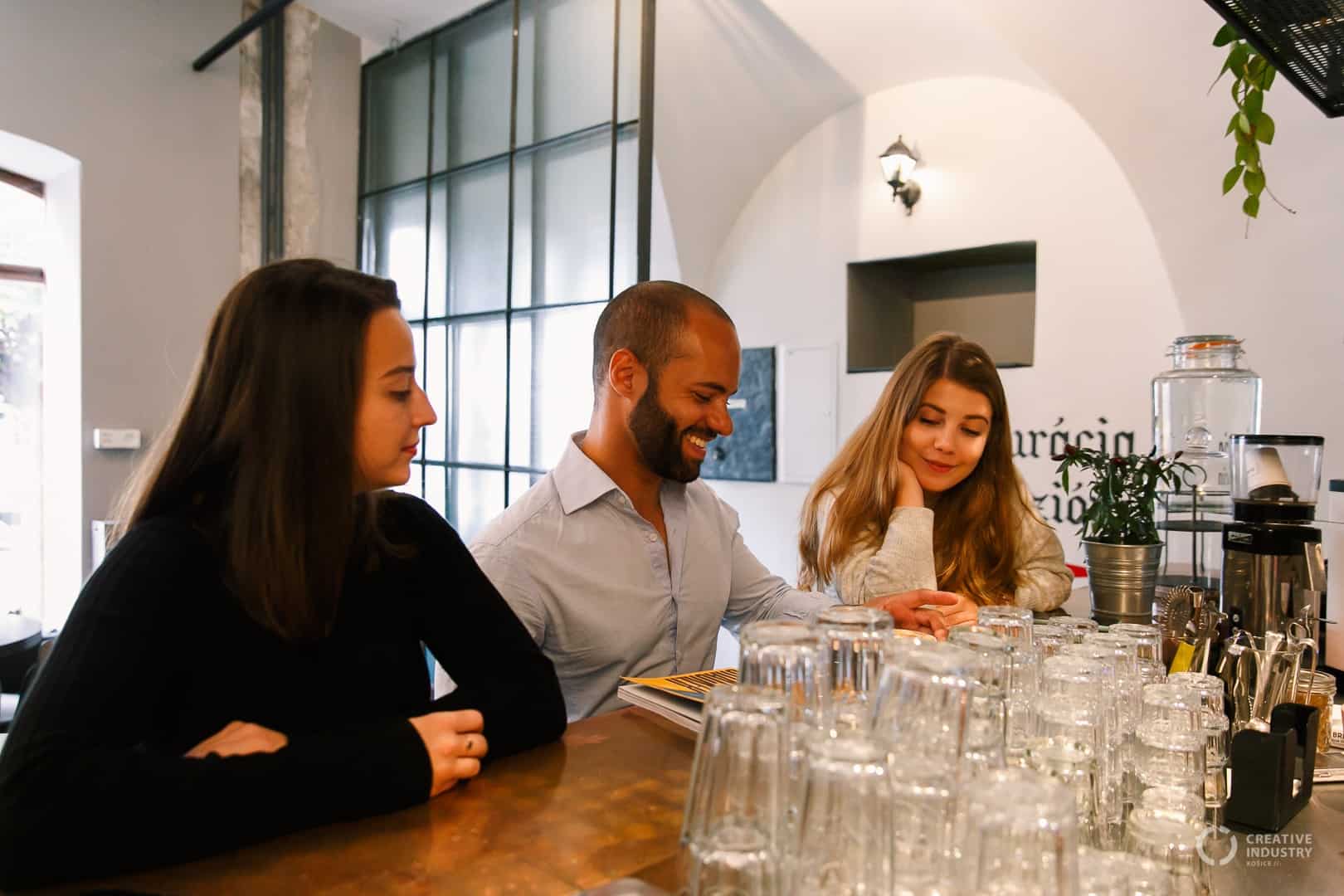 How did you discover the city with our unconventional local guide – City Cracker?
Honestly, I have never seen anything like City Cracker on my travels before. In my opinion, this is a guide that helps the traveller discover invisible places or venues out of sight and acts very friendly towards him. I usually try to search for things I would like to see in a city online. Sometimes it's easy and quick but other times I struggle a lot. I've used and seen many guides. Most of them were so informative and full of facts and data about the city that it seemed like a boring textbook. This is a book that makes you feel at home in a foreign place. Having it is like having a real friend who really wants you to see the most fascinating parts of the city and navigates you exactly to the heart of local life in Košice. This book even gives you recommendations for exceptional people in Košice who you can really get to know during your trip.
Is it possible that Košice has influenced you in any way within three days?
Staying in a foreign city or country will always change you a little. It's mainly because of the culture and the things you see there. I was in Warsaw a few days ago, then I went to Krakow and realized how different these two cities are in one country. Košice is only a few kilometres away, and I noticed this diversity again. It always changes and shapes my personality when I travel.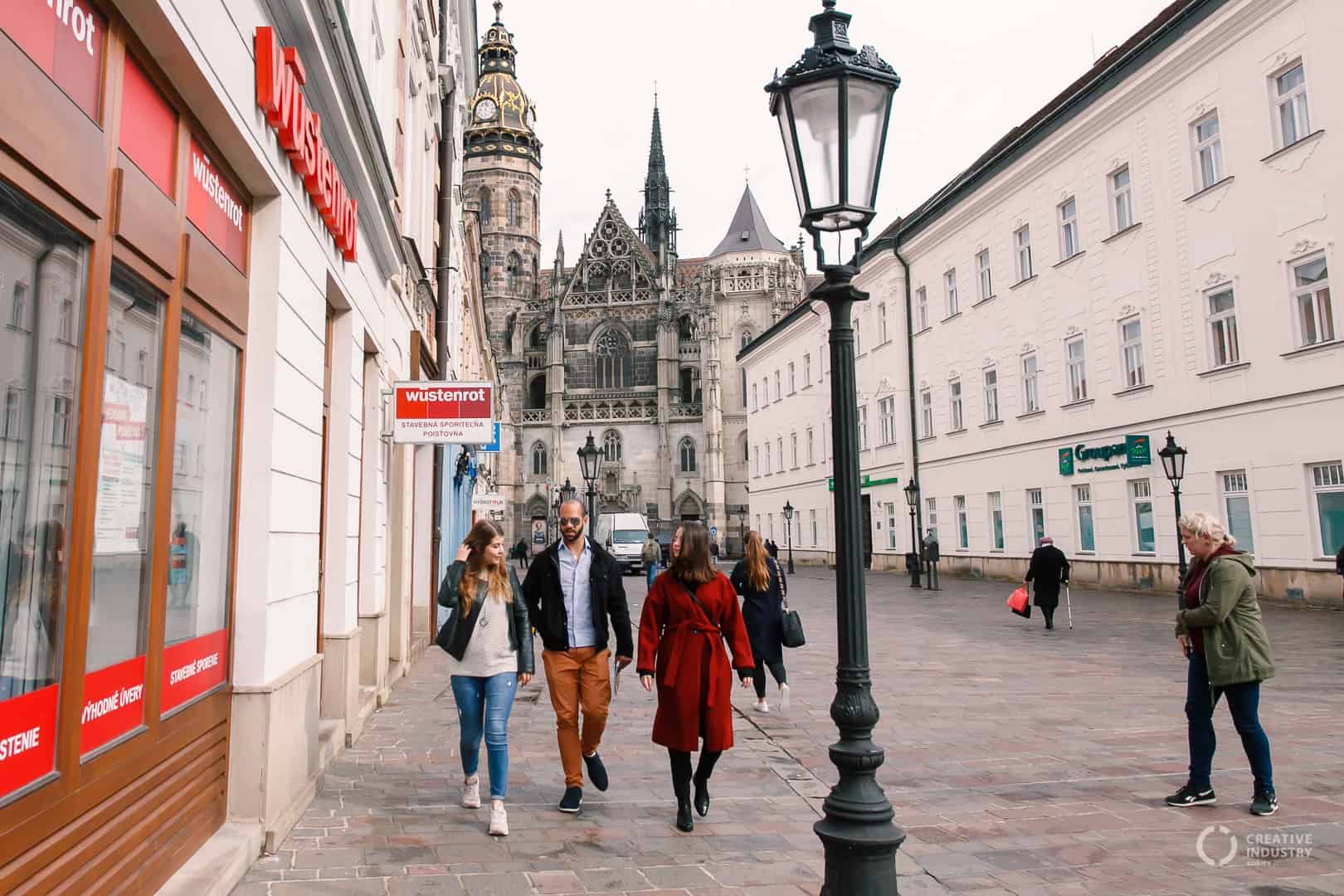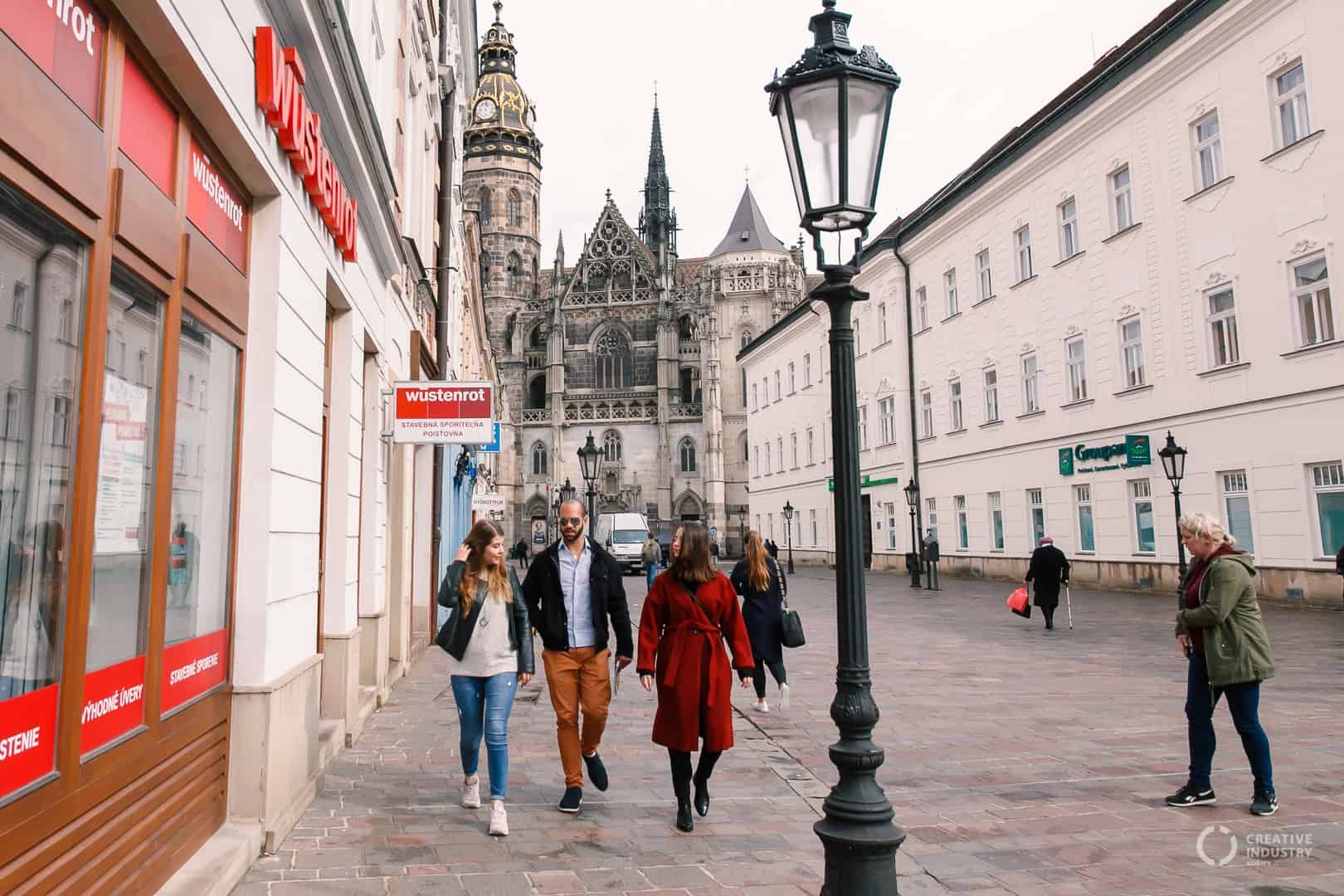 In conclusion, Igor explains to me that travelling around Europe is very easy, quite cheap and that he enjoys it a lot more after college when there are no deadlines and he can fully focus on himself. In every good Košice bookstore, as well as an information centre, airport or several pubs, your book friend, the unconventional City Cracker – Your Local Guide to Košice, is awaiting you. Come to Košice and experience one of the best trips than ever before.