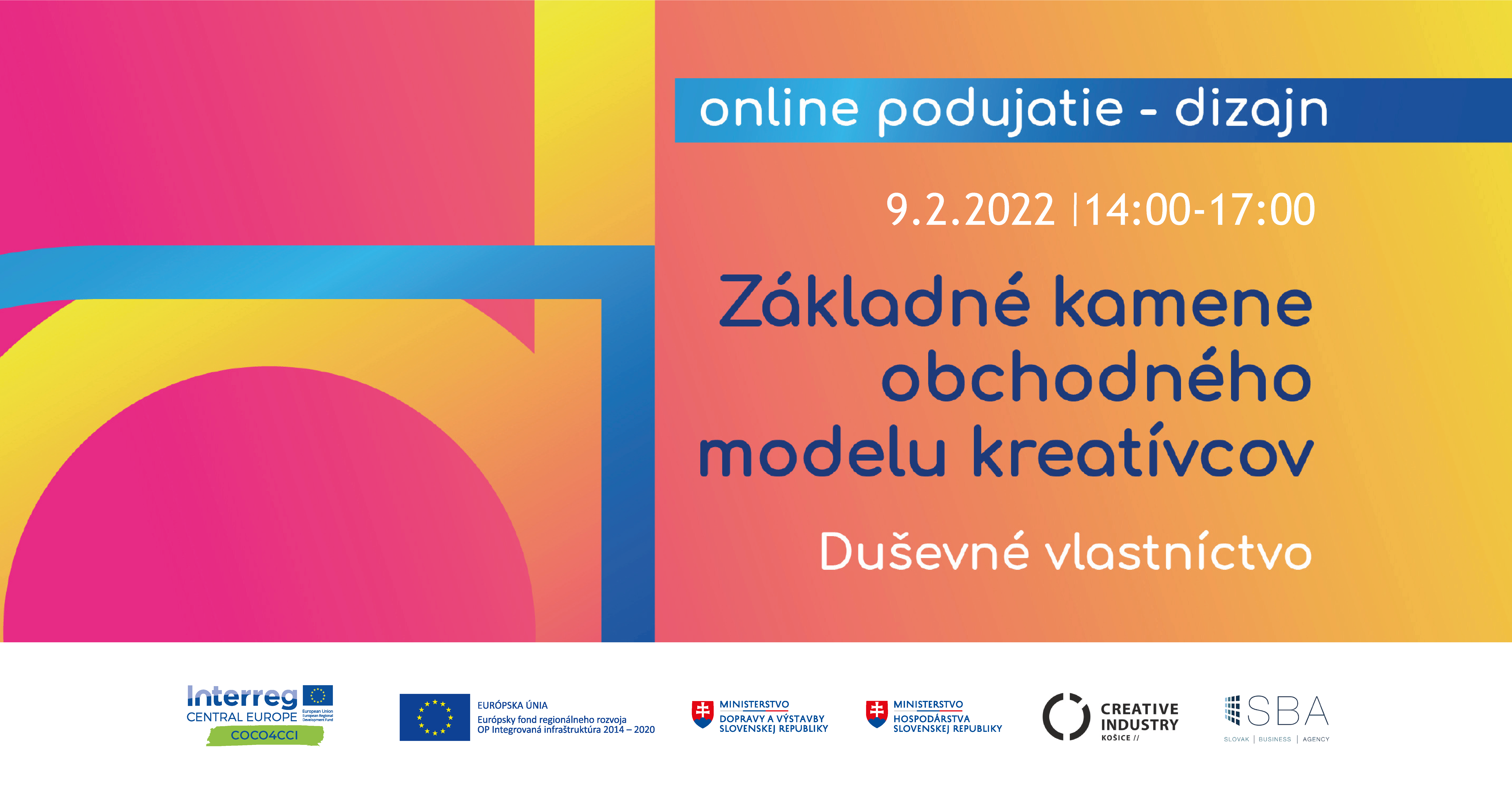 We invite you to attend the first series of online events called The cornerstones of business models for people working in creative fields. At the beginning of February, we will discuss the topic of intellectual property in business in more depth, and you will be able to find out more from theory and practice. Specific examples of well-working business models where intellectual property rights form one of the cornerstones of business will also be presented.
Participation at this event is free of charge, but you need to register in advance: vytvor.me/podujatia.
The registration will end on 28th January 2022, at 12:00, or until the capacity is reached.
Who can attend? 
The event is aimed at entrepreneurs (an individual or a legal person) working in the supported fields of the creative industry – architecture, design, commerce and marketing, ICT.
When?
9th February 2022 from 14:00 to 17:00
Where?
Online through Webex platform.
With whom?
The event will be held by JUDr. Zuzana Adamová, PhD., a law expert in new technology, internet, and intellectual property. She works in the PETKOV & Co. law firm and is a director of the Institute of Intellectual Property Law and Information Technologies of Trnava University. She is a patent attorney and an expert in the Arbitration centre for alternative domain dispute resolution (EISi), where she deals with the disputes for '.sk' domains. She is a member of expert and legislation groups in media, audio-vision, and copyright and an author of many publications. In the past, she worked in many law offices, at the Ministry of Culture of the Slovak Republic, in the private sector in the field of creative industry and technology transfer support.
---
The online event is organized by the Slovak Innovation and Energy Agency within the national project Support of the Development of the Creative Industry in Slovakia in cooperation with the non-profit organization Creative Industry Košice and Slovak Business Agency within the project CoCo4CCI, financed by Interreg Central Europe.