How does technology change us? How can we use technology for pursuing the personal and organizational change? How can art and culture lead that change? How can we design change, not to be frightened of it but to depend on it? How can change triggered by technology re-design our values? Do we need (to) change?
This year during Art & Tech Days in Kosice, we will explore CHANGE that we all are part of. We have invited artists, entrepreneurs, futurists and technologists, coaches and facilitators, molecular biology scientists and neuro-linguistic coders, curators, designers, and researchers to present new ideas, bold approaches, cutting-edge discoveries, and current trends in understanding technology, art, design and change we are living today.
Art & Tech Days 2022 festival offers intense 7 days program consisting of debates, workshops, masterclasses, site-specific performances, exhibitions, and international conference of key-note speakers.
Workshop for all age categories and discussion with experienced lectors
This year, the Košice 2.0 project is meets with Art & Tech Days through several activities organized by the project.
At the debate on November 22nd, a part of Unlearning international project supported by the Visegrad Fund and in collaboration with the Košice 2.0 project, we will discuss artistic activities for social change in Eastern Europe in the last 20 years in order to understand how to utilize art as an instrument to stimulate innovative solutions to inspire people to act and to facilitate change in the today's communities.
Another collaboration with Košice 2.0 is represented by masterclass with Martin Honzik, chief curator of Ars Electronica festival in Linz. On November 23rd in Kasárne/Kulturpark he will discuss how data can feed the artistic work and how they can shape artistic thought and help us discover invisible aspects of our realities. To join the masterclass, you can register for free here.
For cultural and creative professionals an exclusive workshop by Vik Maraj, leading Canadian neuro-linguist and group behavior expert, will be organized on November 23rd to debate on how can change be facilitated by art and culture.
Slovak media artists Fero Kiraly will have two days workshop for kids over the weekend (November 26th/27th in Kasárne/Kulturpark), so they can learn how to code and make music at the same time. The number of participants is limited, so hurry up and apply for the workshop HERE.
These workshops were also created in cooperation with the Košice 2.0 project.
International and local artists will present their media artworks and collaborations
At the Košice 2.0 x Ars Electronica x Art & Tech Days – Winds of Košice exhibition, media artist Refik Anadol (TR) will present his work adapted to Kosice's context: data paintings called "Winds of Kosice" turn the invisible patterns of wind in Kosice into a series of poetic image patterns on a digital canvas. Data as a feed for emotive aesthetics, making the invisible beauty of wind visible. The exhibition will be opened in the East Slovak Gallery on November 23rd and will be available for one year.
The opening act will take the form of a multimedia performance on November 23 at 20:00 in the Kunsthalle. Budapest musician Rozi Mákó (HU) and experimenter of electronic music in connection with visuals from Nano vjs (SK) and light design from sedemminut (SK) will create a joint live audiovisual act. You can buy your ticket for the opening act here.
Artist/scientist duo Nikola Ivanov (CZ) and Pau Saiz Soler (ES) has spent two months in Kosice exploring how modernity and technology have changed the understanding of nighttime. They have produced an artwork Second Sun that denotes the 24/7 society, a current state of non-stop flow of information and data that blurs distinction between day and night. The exhibition, part of this year's festival, will be opened on November 21st.
In addition to the above-mentioned exhibitions, cooperation with Košice 2.0 will also bring a multimedia installation by Ezra Šimek (DE) as part of Art & Tech Days. The opening of the exhibition You May Say I'm a Dreamer but I'm Actually Dissociating will be on November 21 at the Kunsthalle in the VUNU Gallery.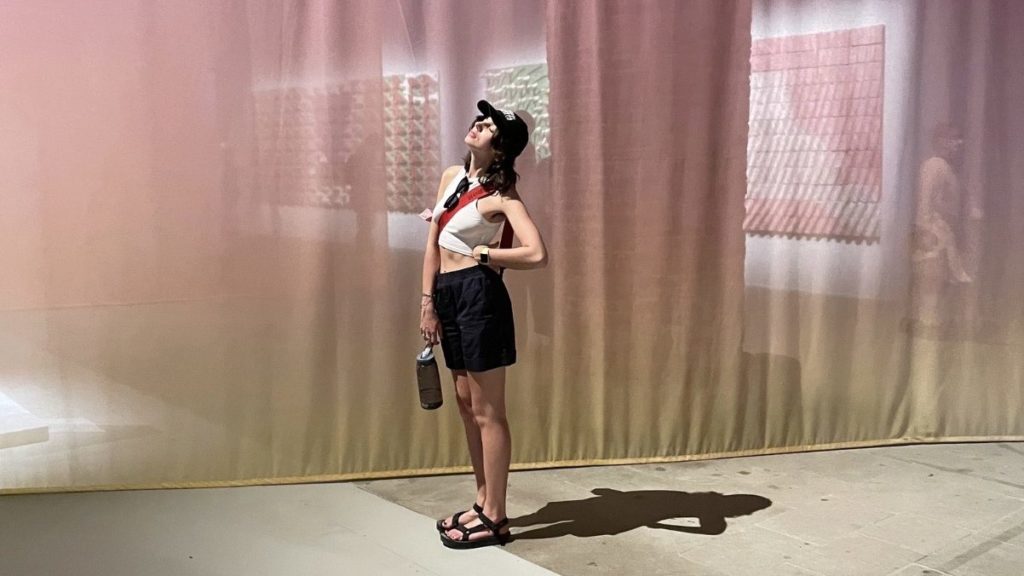 New media artworks that connect cities of Austin, Braga, Cali, Changsha, Dakar, Enghhien-les-Bains, Guadalajara, Gwangju, Karlsruhe, Sapporo, Toronto, Viborg, and Kosice in their commitment to the importance of the artistic cooperation and support of creativity as major forces for the sustainable development in these times of uncertainty will be presented as part of City to City exhibition in Alpha Gallery in Kulturpark, from November 22nd.
You can see the artworks of the artistic duos: Beáta Kolbašovská (Košice) and Junichi Oguro (Saporro) – Reminiscence path, 2020, Ivana Durkáčová (Košice) and Lucian Rodriguez Arredondo (Guadalajara) – PlaceHolder, 2021, and this year's collaboration consists of the duo Mišo Hudák (Košice) and Faiza Kracheni (Austin) and their artwork Born & Raised, 2022.
Seven top speakers will answer the questions on the topic of CHANGE
This year's Art & Tech Conference will take place on November 24th and will explore how can human behaviour be affected and triggered by technology, art, and design. Can technology serve the evolution of the people and systems around them? How can it bring personal change? What happens when creativity fuses with technology? How does technology affect values, and how does it influence communities and markets?
We invited seven top international speakers, from artist Maurice Benayoun, personal development coach Alan Littlefield, system design researcher Ambra Trotto, Ars Electronica curator Martin Honzik, neuro-linguistic practitioner Vik Maraj, social innovator Lucia Paskova, entrepreneur and technologist Lisa Lang to help us address the topic and offer their perspectives on those questions.
Welcome to Art & Tech Days 2022!
Links:
Web: www.atdays.sk/en
Tickets: www.bit.ly/atdays2022
Facebook: www.facebook.com/artandtechdays
ATD2021 video: www.youtu.be/7r_V2ztKgDg
---
Art & Tech Days festival is a flagship event of Creative Industry Kosice, a non-profit that supports cross-sectoral collaboration of art, culture and creative businesses to develop solutions for improving the wellbeing in the city. CIKE is a focal point of Kosice in UNESCO Creative Cities Network's cluster of Media Arts.
The festival is organized by Creative Industry Košice, Košice 2.0 and K13 Košické kultúrne centrá.
Art & Tech Conference is held under the auspices of the president of Slovak republic Zuzana Čaputová and the Slovak section of UNESCO.
The Košice 2.0 project is co-financed by The European Forum for Research in Rehabilitation through the Urban Innovative Actions initiative. The festival was supported from public funds by the Slovak Art Council.
Main Partners of the festival are Foundation Tatra banka and Tatra banka.
Partners of the festival are City of Kosice, Slovak section of UNESCO, Kosice region, Austrian cultural forum, Visegrad fund, Promiseo, Antik Telecom, Visit Košice.
Media partners of the festival are Rádio FM, TV JOJ, telKE, Košice:DNES.